Feeling confident about the way your smile looks is priceless. But if your teeth are dark and discolored, it can detract from your self-confidence. A professional, effective teeth whitening treatment can take your smile to the next level, providing a youthful, healthy-looking glow. 
Teeth whitening is one of the first things we recommend when you're considering a smile makeover. Many times, teeth brightening is a perfect stand-alone aesthetic service. It also jump-starts the makeover process, allowing our cosmetic dentists in Dubai to match updated dental work against. 
Types of Teeth Whitening Treatments
Not all types of teeth whitening are the same. During your initial consultation, our Dubai cosmetic dentists will discuss the advantages of each method as they pertain to your smile's needs. For instance, you may prefer Zoom teeth whitening if you're short on time, or laser teeth whitening if there's a specific tooth that doesn't respond well to whitening gel. We also offer home teeth whitening kits which are easy to use and keep your smile bright for years.
Teeth Whitening Before & After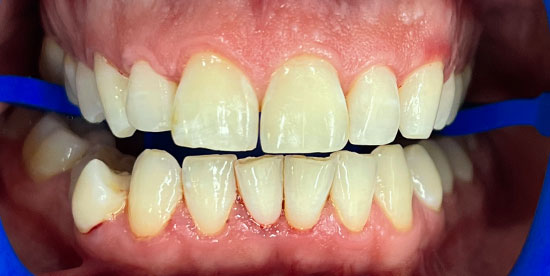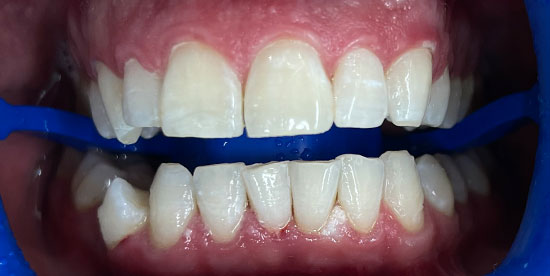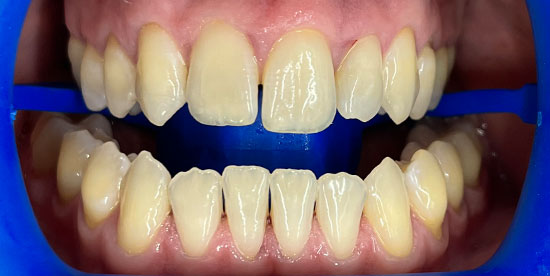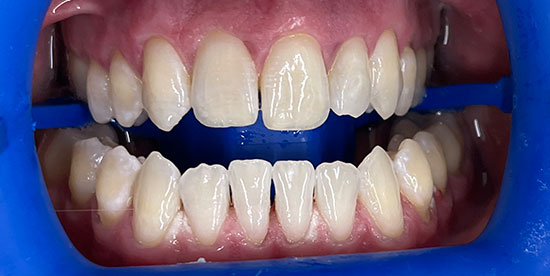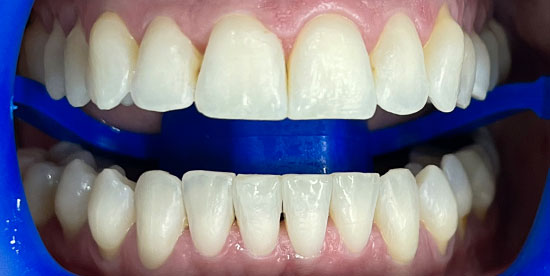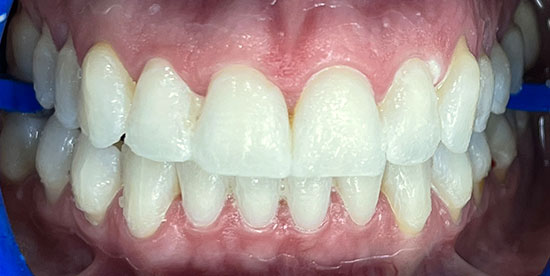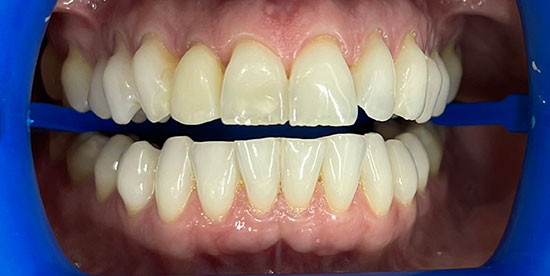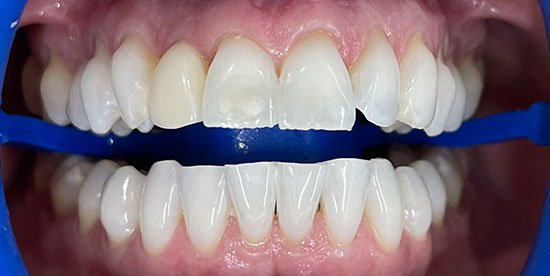 Check out what our patients have to say
I highly recommend here. I had really good experience with Luisa Royes who is dental hygienist in the Dr.Joy dental clinic. she did my teeth cleaning and whitening.she is professional and attention to the details.
Mona Yip
I loved the service and my tooth whitening results .. they are the best in dental services 👍🏻
Rawdha Almuhairi
Reserve Your Smile Consultation Today
Dr. Joy Dental Clinic is equipped with onsite digital smile design (DSD) software, which allows you to virtually "try on" various cosmetic dental procedures before the treatment is even initiated. Contact one of our Dubai locations today to reserve a teeth whitening consultation.
Frequently Asked Questions
How do I use a home whitening kit?

A home teeth whitening kit is worn once a day for 10-14 days. If it's a daytime bleaching gel, you will wear it for about an hour. The overnight bleaching gel can be worn while you're sleeping.

How do you whiten yellow teeth at home?

The best way to whiten your teeth at home is to use professional-grade bleaching gels available through our Dubai dentists. Unlike over-the-counter kits, a professional system will whiten your teeth just as well as a same-day Zoom! teeth whitening session. The key is to wear it as directed, with full results visible in about 1.5-2 weeks.

Do home teeth whitening kits work?

Absolutely. Professional home teeth whitening systems are one of the best ways to whiten your tooth enamel. The concentrated professional ingredients are stronger than anything available online or from a store, so you'll see better results in less time.

Who is a candidate for laser dentistry?

Laser dentistry is great for anyone who has healthy teeth (free of decay or gum disease) with significant tooth stain. Particularly discoloration that seems to be related to medications or trauma to the tooth.

How long will my results last?

The results of laser teeth whitening are similar to what you would see with take-home or Zoom! whitening treatments. The less frequently you consume dark foods and liquids, the longer the whitening results will last. We frequently recommend custom whitening trays as a touch-up option to keep your smile bright over the years ahead.

Is laser teeth whitening better than other types of whitening treatment?

Laser teeth whitening is better (more effective) if your tooth has an atypical discoloration or stain within the actual tooth anatomy. The laser offers a stronger-powered approach to erasing deep stains that might not otherwise respond to bleaching gel. By pinpointing the laser onto specific problem areas, even the most tedious areas of tooth stain can be erased from your smile.

How does laser teeth whitening work?

Laser teeth whitening uses a medical-grade diode laser to target tooth coloration and instantly whiten your smile. A typical treatment only takes about 20 minutes to complete (making it the fastest teeth whitening treatment on the market.) Even though some whitening treatments are mistakenly referred to as "laser whitening", most do not use a true dental laser, like what our Dubai cosmetic dentists utilize.

How can I combat tooth sensitivity caused by whitening?

Talk to our Dubai cosmetic dentists about which type of teeth whitening products are best for sensitive teeth. We recommend using a desensitizing toothpaste each day for two weeks leading up to your whitening appointment, and a week or so afterward. 

Am I a candidate for Zoom! teeth whitening?

In order to qualify for same-day teeth whitening, your teeth and gums need to be healthy. We cannot bleach dental work such as crowns, fillings, or veneers, as those restorations in your smile zone will not respond to the gel. If you want to whiten anyway, they will need to be replaced. Zoom! whitening is not recommended on anyone under 18 years of age.

How can I maintain my results?

Avoid dark liquids, foods, and anything that could stain a white t-shirt. Red wine, coffee, tea, and curries or tomato pastes are some of the top offenders. To touch up your smile throughout the year (and after dental checkups) ask about a take-home whitening kit to wear as needed.

How safe is Zoom! teeth whitening?

Just like our other teeth whitening kits, Philips Zoom! is completely safe when used as directed. Our Dubai cosmetic dentists will need to thoroughly evaluate your teeth and gums first, to ensure they're healthy enough for whitening. Since bleaching teeth can trigger sensitivity, there are some risk factors we'll need to rule out first.

Does Zoom! whitening work?

Philips Zoom! is one of the most widely respected same-day bleaching teeth brands in the industry. Depending on the particular shade of your teeth and any tedious stains, Zoom! combats strong discoloration so that you won't have to spend as much time with other types of whitening products.

How long does Zoom! whitening last?

Most same-day teeth whitening treatments provide months or up to a year of results without touch-ups. However, stain accumulation is often dependent upon lifestyle factors and diet. We recommend touching up with take-home whitening trays after each checkup to maintain your white smile for years.

How do I whiten my dental work?

Tooth-colored restorations such as white fillings or porcelain crowns do not bleach when exposed to whitening gel. If they are in your "smile zone", it will be necessary to replace them with an updated color. 

Which type of teeth whitening light or gel is best?

Teeth whitening products work differently, depending on the application method, type of gel, and technology (such as a dental laser) being used. We will work with you one-on-one to identify the best whitening method for your specific situation and goals.

How do I remove stains from teeth?

Good oral hygiene and routine dental cleanings can prevent and remove surface stains on your smile. But in time, our porous tooth enamel can naturally absorb discoloration from the foods and drinks we consume. When that's the case, a professional whitening agent can oxidize the stain particles to safely lift them, revealing brighter teeth.

How do I get rid of yellow teeth?

All teeth have at least some extent of natural yellow color or hue. The shade of yellow is dependent upon the anatomical makeup of your unique teeth. Professional teeth whitening can make your smile brighter, but there may still be a slight yellow tint; if that's a concern, you may want to consider dental veneers.

Am I a candidate for teeth whitening?

Any adult with healthy teeth and gums is typically a candidate for teeth whitening. However, we will want to screen for tooth-colored restorations such as white fillings or crowns in your smile zone, as these will not respond to the gel and may need to be updated afterward.
Premium Dental Clinic in Dubai
Address

Villa No. 1021, Al Wasl Road, Umm Suqeim 2, Dubai, UAE

Clinic Hours

| | |
| --- | --- |
| Sunday | 8am - 8pm |
| Monday | 8am - 8pm |
| Tuesday | 8am - 8pm |
| Wednesday | 8am - 8pm |
| Thursday | 8am - 8pm |
| Friday | Closed |
| Saturday | 8am - 8pm |

Address

Villa No. 1041, Al Wasl Road, Umm Suqeim 2, Dubai, UAE

Clinic Hours

| | |
| --- | --- |
| Sunday | 8am - 8pm |
| Monday | 8am - 8pm |
| Tuesday | 8am - 8pm |
| Wednesday | 8am - 8pm |
| Thursday | 8am - 8pm |
| Friday | Closed |
| Saturday | 8am - 8pm |

Address

Shop No. 25, Golden Mile, Building No. 7, Palm Jumeirah, Dubai, UAE

Clinic Hours

| | |
| --- | --- |
| Sunday | 8am - 8pm |
| Monday | 8am - 8pm |
| Tuesday | 8am - 8pm |
| Wednesday | 8am - 8pm |
| Thursday | 8am - 8pm |
| Friday | Closed |
| Saturday | 8am - 8pm |

Address

BurJuman Business Tower, 10th Floor, Office 1003, Bur Dubai, Dubai, UAE

Clinic Hours

| | |
| --- | --- |
| Sunday | 9am - 9pm |
| Monday | 9am - 9pm |
| Tuesday | 9am - 9pm |
| Wednesday | 9am - 9pm |
| Thursday | 9am - 9pm |
| Friday | 11.30am - 7.30pm |
| Saturday | 9am - 9pm |

Address

Central Mall, Ground floor, Street No. 15, Mirdif, Dubai, UAE

Clinic Hours

| | |
| --- | --- |
| Sunday | 9am - 9pm |
| Monday | 9am - 9pm |
| Tuesday | 9am - 9pm |
| Wednesday | 9am - 9pm |
| Thursday | 9am - 9pm |
| Friday | 1pm - 9pm |
| Saturday | 9am - 9pm |

Address

Unit 13 & 14, Souq Extra DSO, Dubai

Clinic Hours

| | |
| --- | --- |
| Sunday | 8am - 8pm |
| Monday | 8am - 8pm |
| Tuesday | 8am - 8pm |
| Wednesday | 8am - 8pm |
| Thursday | 8am - 8pm |
| Friday | Closed |
| Saturday | 8am - 8pm |
Jumeirah Clinic

Address

Villa No. 1021, Al Wasl Road, Umm Suqeim 2, Dubai, UAE

Phone

Clinic Hours

| | |
| --- | --- |
| Sunday | 8am - 8pm |
| Monday | 8am - 8pm |
| Tuesday | 8am - 8pm |
| Wednesday | 8am - 8pm |
| Thursday | 8am - 8pm |
| Friday | Closed |
| Saturday | 8am - 8pm |

Pediatric & Orthodontic Center

Address

Villa No. 1041, Al Wasl Road, Umm Suqeim 2, Dubai, UAE

Phone

Clinic Hours

| | |
| --- | --- |
| Sunday | 8am - 8pm |
| Monday | 8am - 8pm |
| Tuesday | 8am - 8pm |
| Wednesday | 8am - 8pm |
| Thursday | 8am - 8pm |
| Friday | Closed |
| Saturday | 8am - 8pm |

Palm Jumeirah Clinic

Address

Shop No. 25, Golden Mile, Building No. 7, Palm Jumeirah, Dubai, UAE

Phone

Clinic Hours

| | |
| --- | --- |
| Sunday | 8am - 8pm |
| Monday | 8am - 8pm |
| Tuesday | 8am - 8pm |
| Wednesday | 8am - 8pm |
| Thursday | 8am - 8pm |
| Friday | Closed |
| Saturday | 8am - 8pm |

BurJuman Clinic

Address

BurJuman Business Tower, 10th Floor, Office 1003, Bur Dubai, Dubai, UAE

Phone

Clinic Hours

| | |
| --- | --- |
| Sunday | 9am - 9pm |
| Monday | 9am - 9pm |
| Tuesday | 9am - 9pm |
| Wednesday | 9am - 9pm |
| Thursday | 9am - 9pm |
| Friday | 11.30am - 7.30pm |
| Saturday | 9am - 9pm |

Mirdif Clinic

Address

Central Mall, Ground floor, Street No. 15, Mirdif, Dubai, UAE

Phone

Clinic Hours

| | |
| --- | --- |
| Sunday | 9am - 9pm |
| Monday | 9am - 9pm |
| Tuesday | 9am - 9pm |
| Wednesday | 9am - 9pm |
| Thursday | 9am - 9pm |
| Friday | 1pm - 9pm |
| Saturday | 9am - 9pm |

Dubai Silicon Oasis Clinic

Address

Unit 13 & 14, Souq Extra DSO, Dubai

Phone

Clinic Hours

| | |
| --- | --- |
| Sunday | 8am - 8pm |
| Monday | 8am - 8pm |
| Tuesday | 8am - 8pm |
| Wednesday | 8am - 8pm |
| Thursday | 8am - 8pm |
| Friday | Closed |
| Saturday | 8am - 8pm |
[contact-form-7 404 "Not Found"]