TMJ (Jaw Joint Disorder) Symptoms
Not all TMJ pain is caused by temporomandibular joint dislocation or deterioration. In many cases, TMJ symptoms can overlap with other injuries. But through a bit of investigative work and expert examination, we can determine if TMJ treatment is necessary. 
Let us know if you're experiencing any symptoms of:
Ear pain

Pain on one side of your jaw

Popping or clicking noise

Difficulty opening your mouth
Joint pain

Flat, worn teeth

Pain when chewing

Crooked or misaligned teeth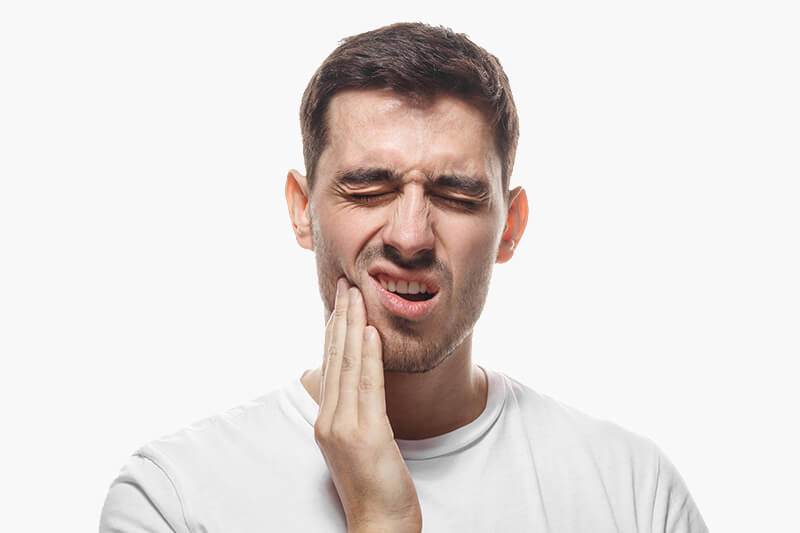 Unlike other joints, your temporomandibular joint moves in a variety of directions and thousands of times per day. When the TMJ function is atypical, it can gradually begin to strain the joint as well as the surrounding tissues (muscles, ligaments, etc.). In turn, this scenario can lead to chronic pain, including sharp pain in ear that comes and goes over time. 
If your teeth and jaws are misaligned, it can directly impact the function of your TMJ, resulting in temporomandibular joint disorder (TMD). 
Overuse is another common cause of TMD. Perhaps you clench your teeth tightly throughout the day (due to stress or while you're concentrating) or have undiagnosed sleep apnoea. Both of these conditions can tense the TMJ excessively, causing the gradual onset of symptoms. 
Additionally, traumatic injuries can be to blame. If you're involved in a contact sport or were in an automobile accident, trauma to your jaw may have displaced the joint and caused internal damage. 
In some scenarios, it's also possible for the joint to deteriorate or experience bone-related disease. A CBCT scan can show us the full anatomy of your TMJ for an in-depth assessment and diagnosis of pathology.
Anyone who needs a dental treatment, do find Dr Joy Dental Clinic and they will take care of the rest. Thank you Dr Joy Clinic keeping the standards high. Thank you
Patrick Mandia
I did treatment at Dr Joy Dental Clinic and the entire team were excellent. It was a very informative session. Dentist answered my all questions as well. I would highly recommend this clinic.
Ghadeer Khatib
You have reached the correct place If you are looking for a dental treatment. I am a frequent visitor of this clinic for all my dental needs. The best dental clinic in Dubai. Keep up the good work!
Firoz Khan
Book An Appointment
The multi-specialty Dubai dental team at Dr. Joy Dental Clinic brings you expert care in a state-of-the-art location. Work with our TMJ specialists for complex treatments related to TMJ disorder for better, more effective long-term results. Contact us today to book an appointment.
Frequently Asked Questions
How can I cure TMJ permanently?

Proper diagnosis of the cause of your TMJ disorder is the first step in a permanent TMJ treatment for your painful condition. Some types of TMD can be managed easily while others are more complex. Ultimately it will depend on what underlying factors are involved (such as joint deterioration or misaligned teeth.)

What are temporomandibular joint dysfunction symptoms?

You may experience ear pain, pain on the left side of your jaw, right-side TMJ pain, limited opening ability, or pain while you're eating and chewing. If your symptoms are due to stress or poor sleep, they may tend to come and go depending on the day.

What type of joint is the temporomandibular joint?

Your TMJ is unique in that your mandible (lower jaw bone) has a joint on either side, so one affects the other. Each TMJ (jaw joint) is a type of ball-and-socket joint, similar to what you have in your hip. This design allows your TMJ to move up and down, side to side, and in a variety of different directions — all of which are essential for being able to fully chew your food in preparation for the digestion process. 
Premium Dental Clinic in Dubai
Location

Clinic Hours

| | |
| --- | --- |
| Saturday - Thursday | 8am - 8pm |
| Friday | 11am - 8pm |

Location

Clinic Hours

| | |
| --- | --- |
| Saturday - Thursday | 12pm - 8pm |
| Friday | Closed |
Jumeirah Clinic

Umm Suqeim Clinic

Palm Jumeirah Clinic

Location

Clinic Hours

| | |
| --- | --- |
| Saturday - Thursday | 8am - 8pm |
| Friday | 11am - 8pm |

BurJuman Clinic

Mirdif Clinic

Location

Clinic Hours

| | |
| --- | --- |
| Saturday - Thursday | 12pm - 8pm |
| Friday | Closed |

Dubai Silicon Oasis Clinic

JVC Clinic

Mirdif Sport Society Mall Clinic