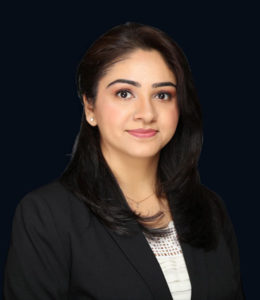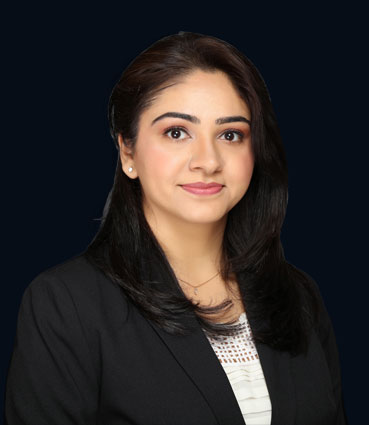 Dr. Namrata Mathrawala
Specialist Pediatric Dentist
Qualification: BDS, MDS

Specialities:

Pediatric Dentistry, Root Canal Treatment, Sleep Apnoea and Snoring, Cosmetic Dentistry, Sedation Dentistry, Myobrace, Laser Dentistry, Routine Dental Checkup, Dental Fillings
Location: Burjuman Clinic – Dubai
Languages: English, Hindi, Gujarati & Marathi
Nationality: India
Dr. Namrata Mathrawala graduated with her Bachelors' of Dental Surgery from Dr. D.Y. Patil Dental College & Hospital, India in 2005, and later went on to complete her Masters in Dental Surgery in the field of Pediatric and Preventive Dentistry in 2009.  She has also achieved certification for the Standard Proficiency in Dental Lasers by the Academy of Laser Dentistry in Dubai and is an American-certified hypnotherapist.
Dr. Namrata is known to be comforting, very patient, and gentle with all her little patients and is frequently praised by parents on her ability to reduce dental anxiety and fear.  Her work with children and their parents from early in their life gives her great satisfaction, knowing that she plays a central role of instilling good oral hygiene that can ensure a cavity-free life.
She feels most rewarded when she achieves co-operation for dental treatments through techniques of behavior modification.  Her training in hypnotherapy helps relax her young patients along with the inhalation sedation that she offers. For very young children or children with special needs who require extensive dental treatments, Dr. Namrata offers the treatments under General Anesthesia in a hospital.
Dr. Namrata is available to treat young patients for the following treatments:
Treatment of Nervous Children with Sedation and General Anesthesia
Dental Restorations and Extractions
Space Maintainers
Pulp Therapy and Root Canal Treatment for Children
Aesthetic and Stainless-Steel Crowns for Children
Correction of developing malocclusions in children's teeth
Correction of harmful oral habits in children
She speaks English, Hindi, Gujarati and Marathi.
The entire root canal treatment for my 5 year old daughter with IV sedation etc was made such a simple, less painful, peaceful process thanks to Dr. Namrata. Forever grateful to her & highly recommend her as she is amazing with children. My daughter now loves to come to see her.
Amlinia Dsouza Athayde
We are having a very pleasant experience with this clinic. Dr Namrata is very nice with our boys. My son had a root canal while under IV sedation last year. The thought seemed scary at first but it was worth it as he doesn't have any bad memories. They enjoy coming to their dentist.
Dani Rose Aquino
Dr. Namrata Mathrawala is our dentist for our 7 years old daughter. My daughter is so sensitive when it comes to touching her teeth but DR. Namrata has expertise and she made it possible for my daughter to remove one teeth, do filling in another teeth and now its a routine for us to visit her every 6 months to make sure that everything goes well with my daughter till all her milk teeth are replaced with permanent teeth. I had literally roamed around from clinics to clinics with my daughter last year when we needed a treatment, but it was only Dr. Namrata who made the impossible possible. Thank you Dr.
Kamal Sadri