Laser Teeth Whitening in Dubai
One of the safest and fastest ways to whiten your teeth in Dubai is to work with a cosmetic dentist who offers laser dentistry. The laser teeth whitening procedure only takes 20 minutes and is extremely effective. 
Thanks to diode laser technology, we can complete a safe laser teeth whitening treatment in under half an hour. Laser in-office whitening is the fastest way to combat chronic staining and tooth discoloration, making it extremely useful for our patients with atypical tooth color.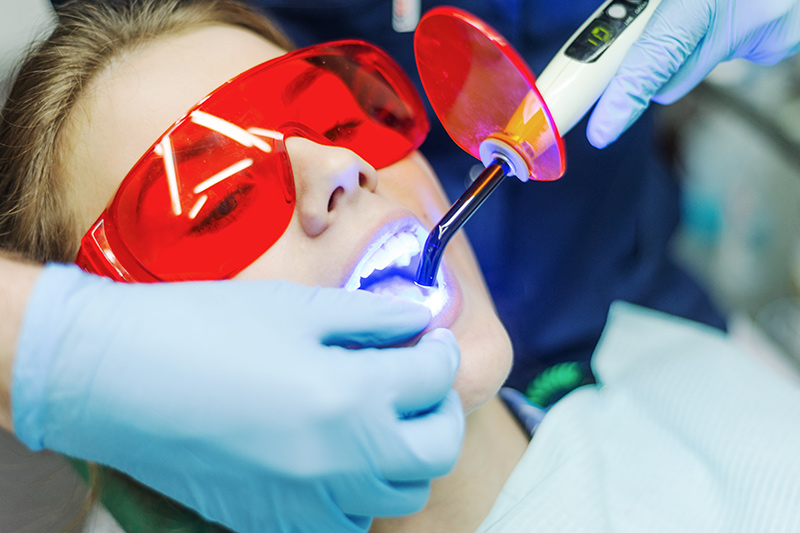 How Laser Teeth Whitening Works
Unlike other types of in-office whitening or take-home whitening trays, the laser teeth whitening procedure does not use any type of bleaching gel. Instead, only a dental diode laser is used. We gently trace over the tooth back and forth with the medical-grade dental laser, and teeth are instantly whitened. 
Our diode laser is also used for soft tissue cosmetics aside from in-office whitening. Such as gum depigmentation for treating dark tissues and splotchy discoloration.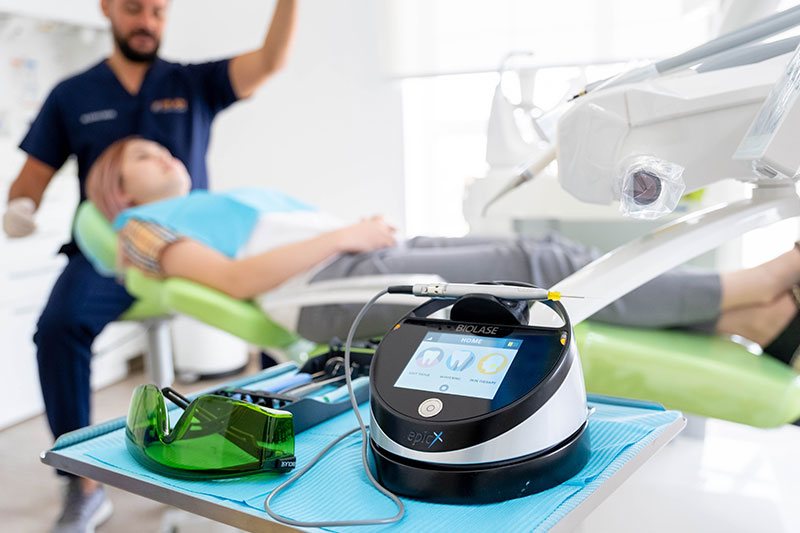 Why Use a Laser for Teeth Whitening?
Some people have significant tooth discoloration caused by past oral trauma, certain types of medication, or developmental factors. These areas might respond to other types of whitening gel, but laser teeth whitening (vs. Zoom!) will be able to provide the best outcome in the least amount of time. 
If you've whitened your teeth in the past but certain areas don't respond to the bleaching agent, then a laser for teeth whitening may provide the best results. Diode lasers are a specific type of medical-grade laser equipment that is different than the ultraviolet light used in Zoom teeth whitening. Although many people refer to Zoom! as a laser procedure, it technically is not; rather, it's light-activated. 
How to Prepare for Your Appointment
The laser teeth whitening process is relatively straightforward. We recommend having your teeth professionally cleaned at least a week or two before your appointment so that there will not be excessive surface stains on your enamel. Our Dubai dentists will also use your checkup appointment to ensure your teeth are healthy enough to whiten. Depending on what you need and prefer, we'll then book you for a laser whitening appointment. 
At the time of your laser whitening treatment, you'll just sit back, relax, and wear a pair of protective glasses (due to the high frequency of light energy being used.) Numbing typically isn't necessary. The visit is complete in what feels like a matter of minutes.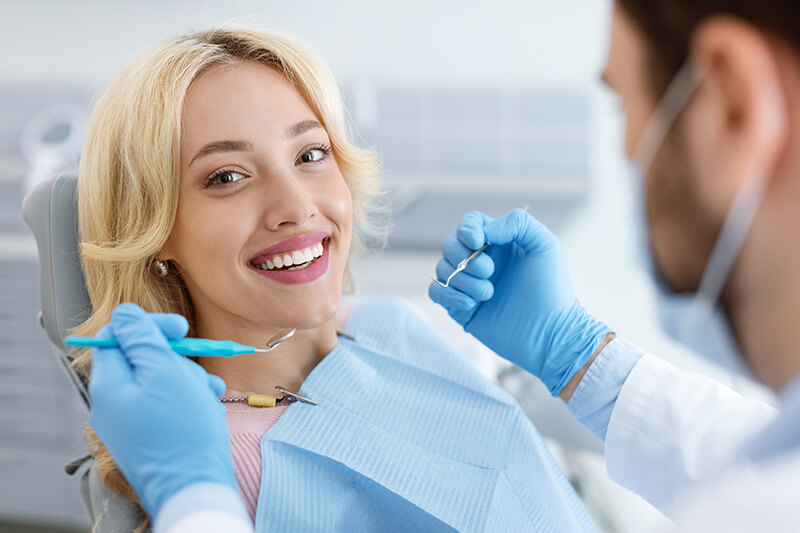 Customized Treatment Plans
I have been using Dr Joy for a while now and had lots of work done with them! I was very cautious with finding the right dentist and I'm so pleased I chose Dr Joy! The practice has a very warm feel and the receptionist team are also very lovely and professional!! I highly recommend them to anyone who is a bit skeptical with finding a dentist here in Dubai!!
Coby
I am very happy with the services provided by the clinic. My treatment was handled extremely professionally and the courteous staff of the clinic were very helpful and swift. I highly recommend this clinic for all oral health issues.
Hammad Ul Haq
By far one of the best dental clinics in the UAE, I've been to a few clinics already and was never convinced with the solutions provided for my teeth until I consulted here and have been a regular patient ever since. It's not easy driving in from Abu Dhabi for every appointment but the outcome is always worth it. Thank you for the continuous flexibility even in my slight delays to my appointments. Excellent level of service, excellent reception team, and an outstanding doctos
Mohannad Al N
Problematic Tooth Stain? Contact Us
Tenacious tooth stain can detract from your overall smile. Dr. Joy Dental Clinic is one of the few Dubai cosmetic dentistry facilities to provide laser teeth whitening at our locations. If you're struggling with deep, problematic tooth discoloration, ask how laser whitening can help. Contact us today to reserve a consultation.
Frequently Asked Questions
Who is a candidate for laser dentistry?

Laser dentistry is great for anyone who has healthy teeth (free of decay or gum disease) with significant tooth stain. Particularly discoloration that seems to be related to medications or trauma to the tooth.

How long will my results last?

The results of laser teeth whitening are similar to what you would see with take-home or Zoom! whitening treatments. The less frequently you consume dark foods and liquids, the longer the whitening results will last. We frequently recommend custom whitening trays as a touch-up option to keep your smile bright over the years ahead.

Is laser teeth whitening better than other types of whitening treatment?

Laser teeth whitening is better (more effective) if your tooth has an atypical discoloration or stain within the actual tooth anatomy. The laser offers a stronger-powered approach to erasing deep stains that might not otherwise respond to bleaching gel. By pinpointing the laser onto specific problem areas, even the most tedious areas of tooth stain can be erased from your smile.

How does laser teeth whitening work?

Laser teeth whitening uses a medical-grade diode laser to target tooth coloration and instantly whiten your smile. A typical treatment only takes about 20 minutes to complete (making it the fastest teeth whitening treatment on the market.) Even though some whitening treatments are mistakenly referred to as "laser whitening", most do not use a true dental laser, like what our Dubai cosmetic dentists utilize.
Premium Dental Clinic in Dubai
Address

Villa No. 1021, Al Wasl Road, Umm Suqeim 2, Dubai, UAE

Clinic Hours

| | |
| --- | --- |
| Sunday | 8am - 8pm |
| Monday | 8am - 8pm |
| Tuesday | 8am - 8pm |
| Wednesday | 8am - 8pm |
| Thursday | 8am - 8pm |
| Friday | Closed |
| Saturday | 8am - 8pm |

Address

Villa No. 1041, Al Wasl Road, Umm Suqeim 2, Dubai, UAE

Clinic Hours

| | |
| --- | --- |
| Sunday | 8am - 8pm |
| Monday | 8am - 8pm |
| Tuesday | 8am - 8pm |
| Wednesday | 8am - 8pm |
| Thursday | 8am - 8pm |
| Friday | Closed |
| Saturday | 8am - 8pm |

Address

Shop No. 25, Golden Mile, Building No. 7, Palm Jumeirah, Dubai, UAE

Clinic Hours

| | |
| --- | --- |
| Sunday | 8am - 8pm |
| Monday | 8am - 8pm |
| Tuesday | 8am - 8pm |
| Wednesday | 8am - 8pm |
| Thursday | 8am - 8pm |
| Friday | Closed |
| Saturday | 8am - 8pm |

Address

BurJuman Business Tower, 10th Floor, Office 1003, Bur Dubai, Dubai, UAE

Clinic Hours

| | |
| --- | --- |
| Sunday | 9am - 9pm |
| Monday | 9am - 9pm |
| Tuesday | 9am - 9pm |
| Wednesday | 9am - 9pm |
| Thursday | 9am - 9pm |
| Friday | 11.30am - 7.30pm |
| Saturday | 9am - 9pm |

Address

Central Mall, Ground floor, Street No. 15, Mirdif, Dubai, UAE

Clinic Hours

| | |
| --- | --- |
| Sunday | 9am - 9pm |
| Monday | 9am - 9pm |
| Tuesday | 9am - 9pm |
| Wednesday | 9am - 9pm |
| Thursday | 9am - 9pm |
| Friday | 1pm - 9pm |
| Saturday | 9am - 9pm |

Address

Unit 13 & 14, Souq Extra DSO, Dubai

Clinic Hours

| | |
| --- | --- |
| Sunday | 8am - 8pm |
| Monday | 8am - 8pm |
| Tuesday | 8am - 8pm |
| Wednesday | 8am - 8pm |
| Thursday | 8am - 8pm |
| Friday | Closed |
| Saturday | 8am - 8pm |
Jumeirah Clinic

Address

Villa No. 1021, Al Wasl Road, Umm Suqeim 2, Dubai, UAE

Phone

Clinic Hours

| | |
| --- | --- |
| Sunday | 8am - 8pm |
| Monday | 8am - 8pm |
| Tuesday | 8am - 8pm |
| Wednesday | 8am - 8pm |
| Thursday | 8am - 8pm |
| Friday | Closed |
| Saturday | 8am - 8pm |

Pediatric & Orthodontic Center

Address

Villa No. 1041, Al Wasl Road, Umm Suqeim 2, Dubai, UAE

Phone

Clinic Hours

| | |
| --- | --- |
| Sunday | 8am - 8pm |
| Monday | 8am - 8pm |
| Tuesday | 8am - 8pm |
| Wednesday | 8am - 8pm |
| Thursday | 8am - 8pm |
| Friday | Closed |
| Saturday | 8am - 8pm |

Palm Jumeirah Clinic

Address

Shop No. 25, Golden Mile, Building No. 7, Palm Jumeirah, Dubai, UAE

Phone

Clinic Hours

| | |
| --- | --- |
| Sunday | 8am - 8pm |
| Monday | 8am - 8pm |
| Tuesday | 8am - 8pm |
| Wednesday | 8am - 8pm |
| Thursday | 8am - 8pm |
| Friday | Closed |
| Saturday | 8am - 8pm |

BurJuman Clinic

Address

BurJuman Business Tower, 10th Floor, Office 1003, Bur Dubai, Dubai, UAE

Phone

Clinic Hours

| | |
| --- | --- |
| Sunday | 9am - 9pm |
| Monday | 9am - 9pm |
| Tuesday | 9am - 9pm |
| Wednesday | 9am - 9pm |
| Thursday | 9am - 9pm |
| Friday | 11.30am - 7.30pm |
| Saturday | 9am - 9pm |

Mirdif Clinic

Address

Central Mall, Ground floor, Street No. 15, Mirdif, Dubai, UAE

Phone

Clinic Hours

| | |
| --- | --- |
| Sunday | 9am - 9pm |
| Monday | 9am - 9pm |
| Tuesday | 9am - 9pm |
| Wednesday | 9am - 9pm |
| Thursday | 9am - 9pm |
| Friday | 1pm - 9pm |
| Saturday | 9am - 9pm |

Dubai Silicon Oasis Clinic

Address

Unit 13 & 14, Souq Extra DSO, Dubai

Phone

Clinic Hours

| | |
| --- | --- |
| Sunday | 8am - 8pm |
| Monday | 8am - 8pm |
| Tuesday | 8am - 8pm |
| Wednesday | 8am - 8pm |
| Thursday | 8am - 8pm |
| Friday | Closed |
| Saturday | 8am - 8pm |