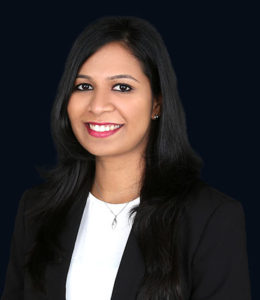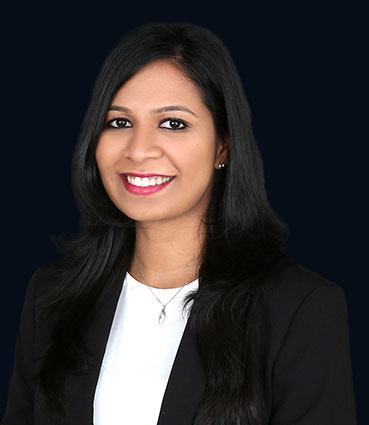 Dr. Narmatha Jayabal
Specialist Endodontist
Dr. Narmatha Jayabal is a Specialist Endodontist and Restorative dentist. She is extremely enthusiastic and passionate about providing the best dental care to all of her patients.
She completed her Bachelor degree in A.B. Shetty Memorial Institute of Dental Sciences, India in 2010.  She then obtained her Masters in Endodontics and Restorative dentistry in 2013 in Bapuji Dental College and Hospital, India.
Dr. Jayabal is an expert in microscopic root canal therapy, re-treatment endodontics, composite restorations, aesthetic enhancement procedures and periapical surgeries. Being a Root Canal Specialist, she specializes in the latest modalities of treatment that are at the cutting edge of dentistry.
Dr. Jayabal has various research publications in renowned international journals. She has attended various international conferences in Australia, Thailand and various parts of India to present her research papers. Dr. Jayabal has lectured and trained undergraduate and postgraduate students in Dental colleges in India and Malaysia.
Thanks to Dr Joy Dental Clinic for my root canal treatment. The staff at reception is also very good and friendly. Providing all necessary support.
Dinesh Kothari
I highly recommend this clinic for their good services. I had a bad experience lately from a previous dental clinic and a friend of mine gave me this recommendation. I decided to give a try then. I appreciate their staffs for the warm welcome by their receptionist Ms Carmielie. I appreciate her utmost assistance with me during my visit and last but not the least i highly recommend as well my Dentist Dr. Jayabal for the utmost great excellent services i received from her during my consultation and the procedures done. I praise her and admire her professionalism and she educates her patients accordingly. Rest assured i was delighted by their services , facilities and professionalism indeed.
Deserae Jane Arong
Very Good Dental Clinic. Good Dentist, good services and follow up on the treatment. The treatment is great. Special thanks to Dentist Narmatha Jayabal for helping me get ride of my intense nerve pain. Quick and very efficient at her work. You have a root canal issue "Go to her".
Steve Martins