Sleep Apnoea and Snoring Treatment in Dubai
Do you have trouble getting a good night's rest? Do you struggle with snoring or suspect that you could have undiagnosed sleep apnoea? If so, oral appliance therapy is an effective solution for specific types of anatomical-related sleep apnoea and sleeping disorders.
Obstructive Sleep Apnoea (OSA)
When you sleep, obstructive apnoea is a specific type of disorder that blocks oxygen flow to your lungs and brain. OSA is caused by soft tissues at the back of your mouth — like your soft palate, tonsils, and tongue — physically collapsing against one another and sealing off your upper airway. In turn, your body can't get enough oxygen while you're sleeping and your blood pressure and overall body inflammation begin to increase. 
OSA can be life-threatening, placing you at a statistically higher risk of heart attack and stroke. Even though you may feel like sleep apnoea and snoring are not a "big" issue to worry about, treating them could potentially save your life.
Fatigue

Depression

Weight gain

TMJ disorder

Ear pain
Flat, worn teeth

Broken dental work

High blood pressure

Large neck circumference

Waking up tired
Snoring is not an exclusive symptom of severe or mild obstructive sleep apnoea. In fact, some people may never snore at all! Depending on the type and severity of sleeping disorder that you have, you may experience some of these common warning signs.
Additionally, our Dubai dentists can screen you for obstructive sleep apnoea by performing a clinical exam. Depending on the size of your intraoral tissues (tongue, tonsils, etc.) and neck circumference, we can let you know whether or not you are at a high risk of OSA. We can also take a 3D CBCT scan to assess your upper airway.
Oral Appliance Treatment for Sleep Apnoea
CPAP machines are not the only way to manage sleep apnoea. A great alternative treatment for OSA is to wear a professionally fitted oral sleep appliance. These special dental appliances are designed to position your mandible (lower jaw) slightly forward, which then reduces the chances of soft tissues sealing off your airway while you sleep. 
Only trained sleep dentists can provide oral sleep appliances, as these are medical-grade devices that must be fitted by a professional. They can also be prescribed by your sleep physician or pulmonologist, and delivered in our office.
Oral Appliance for Snoring
Perhaps you don't need sleep apnoea treatment, but you do suffer from chronic snoring. Or maybe you have mild obstructive sleep apnoea that doesn't quite require a CPAP machine. A CPAP for snoring wouldn't be ideal, but you can still effectively treat the noisy habit with the help of your dentist. 
An oral appliance for snoring will work similarly to other obstructive apnoea therapies by improving your airway and oxygen flow. Some people see improvement in their snoring within a night or so; we can adjust your oral appliance as needed to help you gain the best fit possible.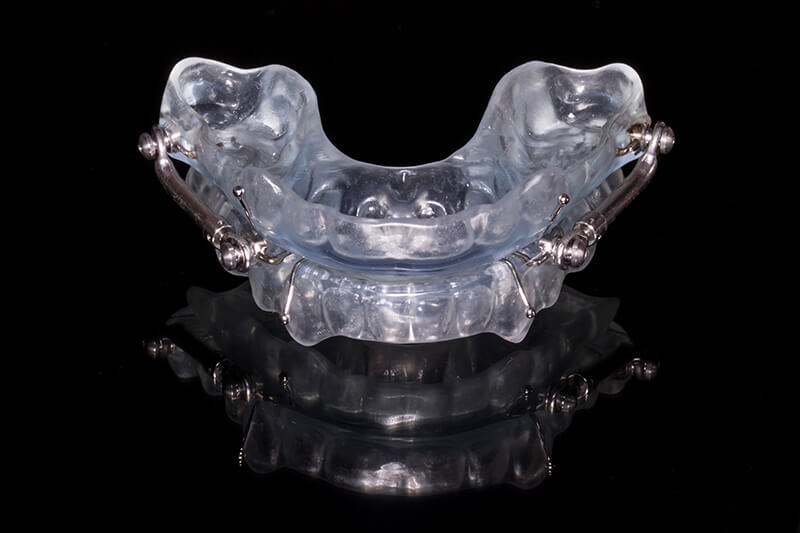 Will I Need a Sleep Apnoea Test?
In years past, traditional sleep apnoea tests were performed in an overnight medical sleep lab. Today, some types of sleep apnoea can be diagnosed through a convenient take-home sleep study test. These more convenient sleep apnoea solutions make it less stressful for someone to get diagnosed and treated for their medical problem, being that the majority of individuals are happy to wear a small device at home but may be hesitant to stay in an overnight lab.
I have been using Dr Joy for a while now and had lots of work done with them! I was very cautious with finding the right dentist and I'm so pleased I chose Dr Joy! The practice has a very warm feel and the receptionist team are also very lovely and professional!! I highly recommend them to anyone who is a bit skeptical with finding a dentist here in Dubai!!
Coby
I am very happy with the services provided by the clinic. My treatment was handled extremely professionally and the courteous staff of the clinic were very helpful and swift. I highly recommend this clinic for all oral health issues.
Hammad Ul Haq
By far one of the best dental clinics in the UAE, I've been to a few clinics already and was never convinced with the solutions provided for my teeth until I consulted here and have been a regular patient ever since. It's not easy driving in from Abu Dhabi for every appointment but the outcome is always worth it. Thank you for the continuous flexibility even in my slight delays to my appointments. Excellent level of service, excellent reception team, and an outstanding doctos
Mohannad Al N
Sleep Apnoea Treatment in Dubai
Our highly trained team of multi-specialist dentists in Dubai provides safe and effective treatment options for sleep apnoea and snoring. Contact us today to reserve a consultation.
Frequently Asked Questions
How should I care for my sleep apnoea appliance?

Rinse your removable sleep appliance each morning and store it in a sealed container. We recommend soaking it in a denture cleanser at least once a week to remove any buildup.

How do you know if you have sleep apnoea?

Read through our list of sleep apnoea symptoms above, then reserve a take-home sleep study test to have your sleep quality analyzed by a medical professional.

Can you cure sleep apnoea?

There are ways to treat and cure specific types of sleep apnoea. For instance, losing weight, practicing good sleep hygiene, and wearing a dental appliance for sleep apnoea can all significantly improve your sleep quality.
Premium Dental Clinic in Dubai
Address

Villa No. 1021, Al Wasl Road, Umm Suqeim 2, Dubai, UAE

Clinic Hours

| | |
| --- | --- |
| Sunday | 8am - 8pm |
| Monday | 8am - 8pm |
| Tuesday | 8am - 8pm |
| Wednesday | 8am - 8pm |
| Thursday | 8am - 8pm |
| Friday | Closed |
| Saturday | 8am - 8pm |

Address

Villa No. 1041, Al Wasl Road, Umm Suqeim 2, Dubai, UAE

Clinic Hours

| | |
| --- | --- |
| Sunday | 8am - 8pm |
| Monday | 8am - 8pm |
| Tuesday | 8am - 8pm |
| Wednesday | 8am - 8pm |
| Thursday | 8am - 8pm |
| Friday | Closed |
| Saturday | 8am - 8pm |

Address

Shop No. 25, Golden Mile, Building No. 7, Palm Jumeirah, Dubai, UAE

Clinic Hours

| | |
| --- | --- |
| Sunday | 8am - 8pm |
| Monday | 8am - 8pm |
| Tuesday | 8am - 8pm |
| Wednesday | 8am - 8pm |
| Thursday | 8am - 8pm |
| Friday | Closed |
| Saturday | 8am - 8pm |

Address

BurJuman Business Tower, 10th Floor, Office 1003, Bur Dubai, Dubai, UAE

Clinic Hours

| | |
| --- | --- |
| Sunday | 9am - 9pm |
| Monday | 9am - 9pm |
| Tuesday | 9am - 9pm |
| Wednesday | 9am - 9pm |
| Thursday | 9am - 9pm |
| Friday | 11.30am - 7.30pm |
| Saturday | 9am - 9pm |

Address

Central Mall, Ground floor, Street No. 15, Mirdif, Dubai, UAE

Clinic Hours

| | |
| --- | --- |
| Sunday | 9am - 9pm |
| Monday | 9am - 9pm |
| Tuesday | 9am - 9pm |
| Wednesday | 9am - 9pm |
| Thursday | 9am - 9pm |
| Friday | 1pm - 9pm |
| Saturday | 9am - 9pm |

Address

Unit 13 & 14, Souq Extra DSO, Dubai

Clinic Hours

| | |
| --- | --- |
| Sunday | 8am - 8pm |
| Monday | 8am - 8pm |
| Tuesday | 8am - 8pm |
| Wednesday | 8am - 8pm |
| Thursday | 8am - 8pm |
| Friday | Closed |
| Saturday | 8am - 8pm |
Jumeirah Clinic

Address

Villa No. 1021, Al Wasl Road, Umm Suqeim 2, Dubai, UAE

Phone

Clinic Hours

| | |
| --- | --- |
| Sunday | 8am - 8pm |
| Monday | 8am - 8pm |
| Tuesday | 8am - 8pm |
| Wednesday | 8am - 8pm |
| Thursday | 8am - 8pm |
| Friday | Closed |
| Saturday | 8am - 8pm |

Pediatric & Orthodontic Center

Address

Villa No. 1041, Al Wasl Road, Umm Suqeim 2, Dubai, UAE

Phone

Clinic Hours

| | |
| --- | --- |
| Sunday | 8am - 8pm |
| Monday | 8am - 8pm |
| Tuesday | 8am - 8pm |
| Wednesday | 8am - 8pm |
| Thursday | 8am - 8pm |
| Friday | Closed |
| Saturday | 8am - 8pm |

Palm Jumeirah Clinic

Address

Shop No. 25, Golden Mile, Building No. 7, Palm Jumeirah, Dubai, UAE

Phone

Clinic Hours

| | |
| --- | --- |
| Sunday | 8am - 8pm |
| Monday | 8am - 8pm |
| Tuesday | 8am - 8pm |
| Wednesday | 8am - 8pm |
| Thursday | 8am - 8pm |
| Friday | Closed |
| Saturday | 8am - 8pm |

BurJuman Clinic

Address

BurJuman Business Tower, 10th Floor, Office 1003, Bur Dubai, Dubai, UAE

Phone

Clinic Hours

| | |
| --- | --- |
| Sunday | 9am - 9pm |
| Monday | 9am - 9pm |
| Tuesday | 9am - 9pm |
| Wednesday | 9am - 9pm |
| Thursday | 9am - 9pm |
| Friday | 11.30am - 7.30pm |
| Saturday | 9am - 9pm |

Mirdif Clinic

Address

Central Mall, Ground floor, Street No. 15, Mirdif, Dubai, UAE

Phone

Clinic Hours

| | |
| --- | --- |
| Sunday | 9am - 9pm |
| Monday | 9am - 9pm |
| Tuesday | 9am - 9pm |
| Wednesday | 9am - 9pm |
| Thursday | 9am - 9pm |
| Friday | 1pm - 9pm |
| Saturday | 9am - 9pm |

Dubai Silicon Oasis Clinic

Address

Unit 13 & 14, Souq Extra DSO, Dubai

Phone

Clinic Hours

| | |
| --- | --- |
| Sunday | 8am - 8pm |
| Monday | 8am - 8pm |
| Tuesday | 8am - 8pm |
| Wednesday | 8am - 8pm |
| Thursday | 8am - 8pm |
| Friday | Closed |
| Saturday | 8am - 8pm |