Gum Depigmentation in Dubai
When most of us think of an attractive smile, we think of straight, white teeth. But the frame around our teeth also affects the way our smile looks. From the fullness of our lips to the contours of our gum tissues, all of the soft tissue and gingiva (gums) around each tooth ultimately impact our appearance.
For the majority of individuals, healthy gum tissues are a coral or pink color, regardless of the pigmentation of the rest of their skin. But for others, their gums could either be completely dark or a combination of patchy or splotchy pink and black tissues throughout their mouth. Even if their gums are healthy and free of gum disease, the rare or atypical coloration could be a source of self-consciousness. Especially if a large amount of gum tissue is visible when they're smiling or laughing. 
Thankfully there's an answer for people who want to bleach their patchy or black gums. Laser gum depigmentation is a safe way to lift the darker pigment out of delicate gum tissue, leaving lighter pink skin behind.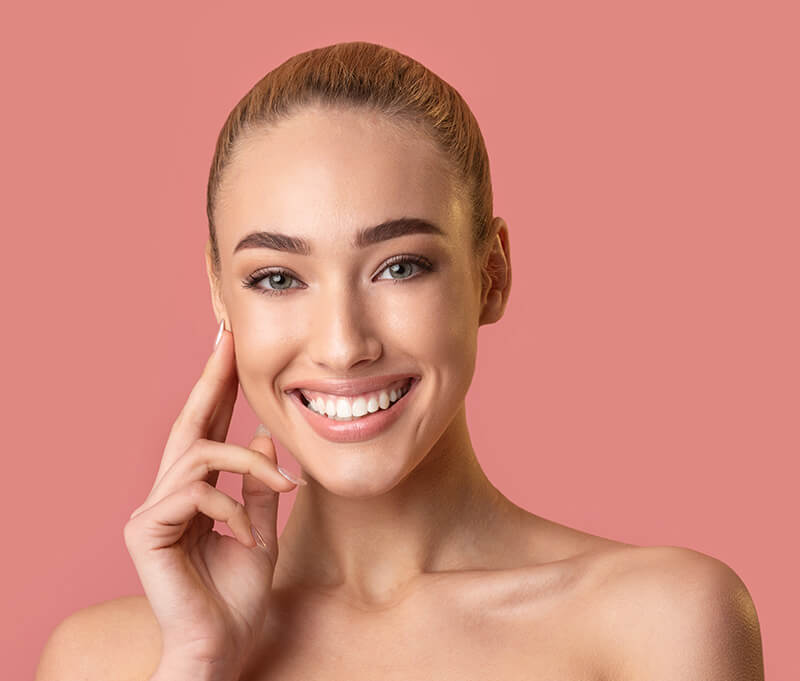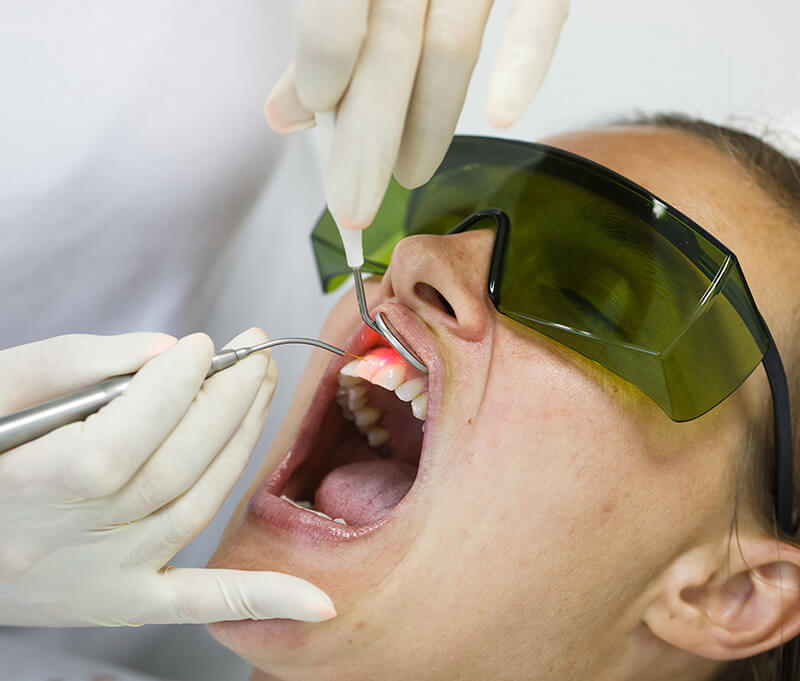 One of the safest and most effective types of gum bleaching is laser gum depigmentation. During this procedure, we use a high-grade dental laser to treat the pigmented tissues around your teeth. As long as it's overseen by an experienced professional, laser gum depigmentation is extremely safe and effective. 
Laser technology has transformed cosmetic dentistry. Its safety and efficacy ensure both comfort and effectiveness for our gum depigmentation patients. But lasers aren't just used for addressing dark gum tissues; they can also be used for soft tissue therapy related to gum disease, treating ulcers and cold sores, providing tongue and lip tie treatments, and occasionally the small drill-free filling (all depending on which type of laser is being used, of course.) 
Laser treatments are gentler than using harsh chemicals for gum bleaching, eliminating the risk of irritation or chemical burns on your skin.
I have been using Dr Joy for a while now and had lots of work done with them! I was very cautious with finding the right dentist and I'm so pleased I chose Dr Joy! The practice has a very warm feel and the receptionist team are also very lovely and professional!! I highly recommend them to anyone who is a bit skeptical with finding a dentist here in Dubai!!
Coby
I am very happy with the services provided by the clinic. My treatment was handled extremely professionally and the courteous staff of the clinic were very helpful and swift. I highly recommend this clinic for all oral health issues.
Hammad Ul Haq
By far one of the best dental clinics in the UAE, I've been to a few clinics already and was never convinced with the solutions provided for my teeth until I consulted here and have been a regular patient ever since. It's not easy driving in from Abu Dhabi for every appointment but the outcome is always worth it. Thank you for the continuous flexibility even in my slight delays to my appointments. Excellent level of service, excellent reception team, and an outstanding doctos
Mohannad Al N
Smile with Confidence
Does having splotchy or dark gum tissue cause you to feel self-conscious about your smile? A quick solution is as simple as one phone call to our Dubai cosmetic dentists. Reserve a consultation today to find out how laser gum depigmentation can help your smile look the way you want it to. Call now to get started.
Frequently Asked Questions
Should I bleach my gums?

If you feel embarrassed about the way your smile looks because of your gum coloration, then laser gum bleaching is a smart investment. When you feel confident about your smile, you'll have all the more reason to show it off during social interactions. 

Are dark gums normal?

Depending on your natural skin pigmentation, black gums can be considered typical for certain individuals. However, even those who have naturally darker-colored skin may not usually have black gum tissues. If you feel that your dark gums detract from your smile — or there is splotchy discoloration — our gum depigmentation treatment can help you achieve more aesthetically appealing tissue coloration.

How long does gum bleaching last?

A typical laser therapy for dark gum treatment will usually provide results for 2-3 years at a time. Since gum tissues naturally start to shed cells and be replaced by new ones, you'll find that natural pigmentation in your gums will come back over time.

Does gum Depigmentation work?

Yes. Gum depigmentation is not an extremely popular cosmetic dentistry treatment since only a small percentage of people require this aesthetic service. However, laser gum depigmentation is extremely effective and produces amazing results for our patients. During black gum removal, lightening occurs as the laser is applied to that specific area of tissue. The laser technology is extremely safe and used worldwide for a variety of cosmetic and minimally invasive procedures, including dark gums treatment.
Premium Dental Clinic in Dubai
Location

Clinic Hours

| | |
| --- | --- |
| Saturday - Thursday | 8am - 8pm |
| Friday | Closed |

Location

Clinic Hours

| | |
| --- | --- |
| Saturday - Thursday | 8am - 8pm |
| Friday | Closed |

Location

Clinic Hours

| | |
| --- | --- |
| Saturday - Thursday | 8am - 8pm |
| Friday | Closed |

Location

Clinic Hours

| | |
| --- | --- |
| Saturday - Thursday | 9am - 9pm |
| Friday | 11.30am - 7.30pm |

Location

Clinic Hours

| | |
| --- | --- |
| Saturday - Thursday | 9am - 9pm |
| Friday | 1pm - 9pm |

Location

Clinic Hours

| | |
| --- | --- |
| Saturday - Thursday | 8am - 8pm |
| Friday | Closed |
Jumeirah Clinic

Location

Clinic Hours

| | |
| --- | --- |
| Saturday - Thursday | 8am - 8pm |
| Friday | Closed |

Umm Suqeim Clinic

Location

Clinic Hours

| | |
| --- | --- |
| Saturday - Thursday | 8am - 8pm |
| Friday | Closed |

Palm Jumeirah Clinic

Location

Clinic Hours

| | |
| --- | --- |
| Saturday - Thursday | 8am - 8pm |
| Friday | Closed |

BurJuman Clinic

Location

Clinic Hours

| | |
| --- | --- |
| Saturday - Thursday | 9am - 9pm |
| Friday | 11.30am - 7.30pm |

Mirdif Clinic

Location

Clinic Hours

| | |
| --- | --- |
| Saturday - Thursday | 9am - 9pm |
| Friday | 1pm - 9pm |

Dubai Silicon Oasis Clinic

Location

Clinic Hours

| | |
| --- | --- |
| Saturday - Thursday | 8am - 8pm |
| Friday | Closed |