Metal and Ceramic Braces in Dubai
Traditional teeth straightening methods use a bracket and wire system to guide your teeth into a proper alignment. Whether your smile is slightly crowded or has severe tooth misalignment, conventional braces are extremely effective. 
Today, you have the option to choose between traditional metal braces or a more cosmetic ceramic braces style. Both work similar to one another, but one is more subtle and blends in with your smile. Ultimately it depends on your preferences as to which one you choose.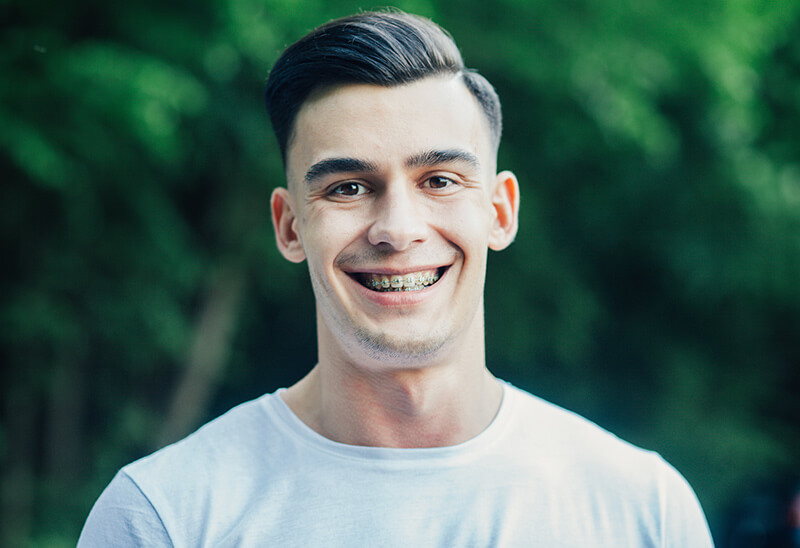 If you're getting braces, the process begins with a consultation and exam. Our Dubai Orthodontists will evaluate your bite and teeth alignment (including TMJ function) to determine whether any correction is necessary. If it is, we can discuss the best types of braces for your needs. From there, we'll take a series of impressions and scans, then work up a treatment plan outlining the details. 
The length of your time in traditional braces or ceramic braces will be about the same, regardless of which one you choose.
Most cases are completed in 12-18 months, but it ultimately depends on the extent of your tooth alignment needs. Wearing your appliances as directed will help to ensure a more efficient treatment experience. 
During your consultation, our Dubai Orthodontists can provide you with an estimate of the length of your treatment. Everyone's smile is unique, so it's key to work with an experienced orthodontic provider to get an accurate timeframe.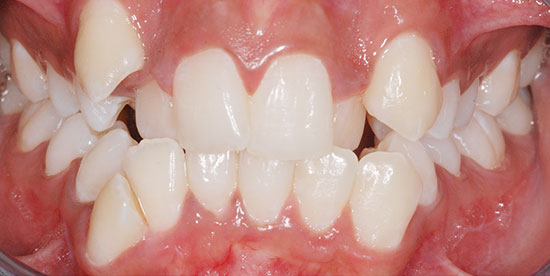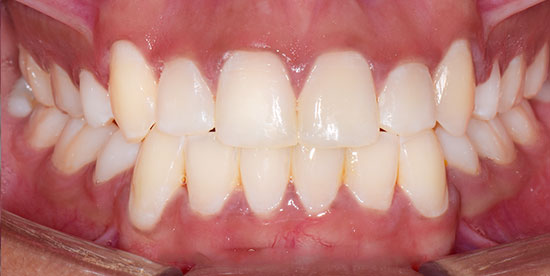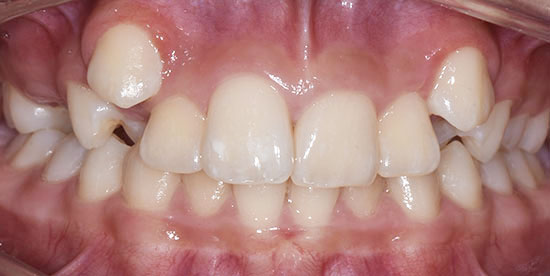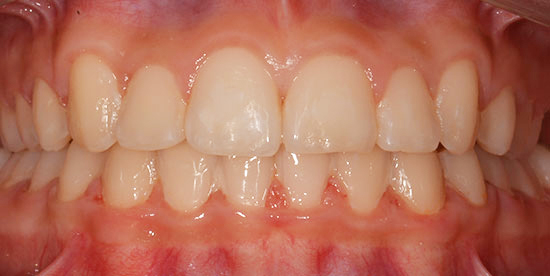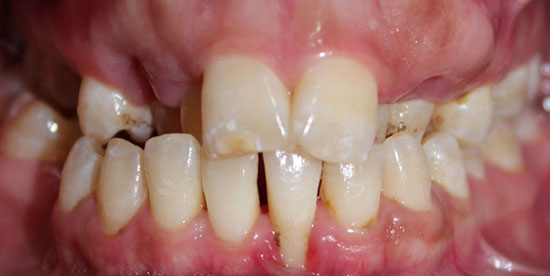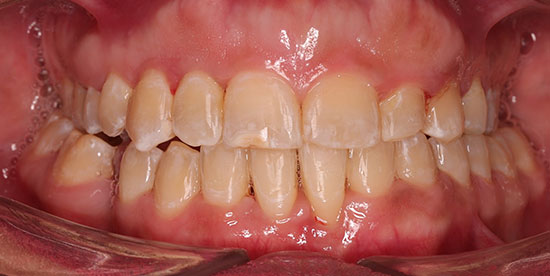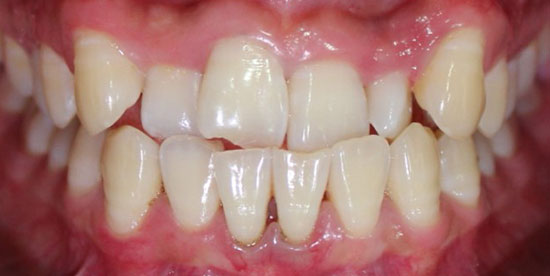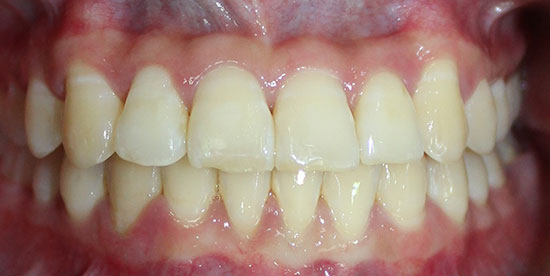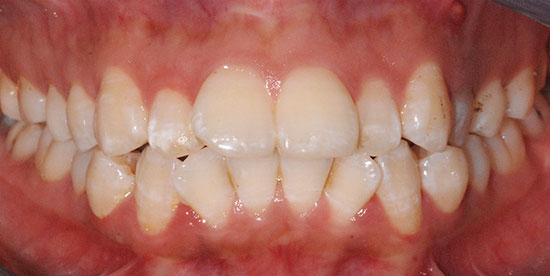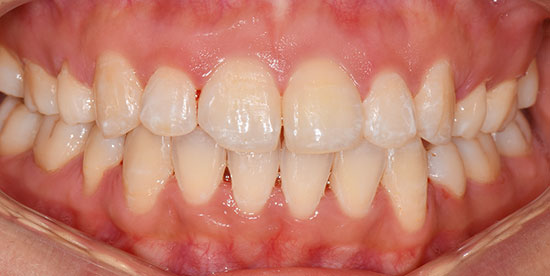 Check out what our patients have to say
I are extremely happy with the service offered from Dr Joy Dental clinic and I would like to thank Dr Anil S Ramu for his wonderful service which he offered to my son who underwent his Orthodontic Procedures. I am extremely happy with the results and would highly recommend Dr Anil S Ramu who is one of the best Orthodontist's in Dubai.
Danie John
From start to finish Dr Rana Muwahid was just so knowledgeable and kind. I was between both Palm and Umm Suqeim Branch due to moving house and both clinics are impeccably clean and inviting. Every piece of equipment is state of the art, no expense is spared - I really feel like I had a 5 star service. I had a lot of over crowding due to wisdom teeth that had come through, now they're perfectly straight. Thank you so much for giving back my smile! X
Jade Ellen
I had a wonderful experience with Dr. Omar Said. He is absolutely amazing, professional and most importantly so passionate about his work. Thank you Dr. Omar for making it a smooth sailing braces journey 🙂 you took it to a whole new level! The result is really impressive, and my 2 milk teeth are safe and sound 😀 Dr. Omar is a real important asset to Dr. Joy clinic. If i could give more than 5 stars, i would!
Mariam Amr
Is Orthodontic Treatment Right for Me?
Dr. Joy Dental Clinic provides comprehensive orthodontic assessments for children, teens, and adults of all ages. If your oral health and function would benefit from a better aligned smile, we can recommend the best type of teeth straightening method for your age and lifestyle. Between metal brackets/braces and invisible braces, we have something for everyone. 
Investing in traditional braces (metallic appliances) is a proven, straightforward way to straighten even the most crowded or misaligned teeth. Aligning your smile with normal braces can lower your risk of premature tooth wear, cavities, gum disease, and TMJ disorder. 
We encourage you to reserve a hassle-free orthodontic screening to learn whether or not metal braces, ceramic braces, or another type of treatment is right for you. Screenings begin as young as age 7.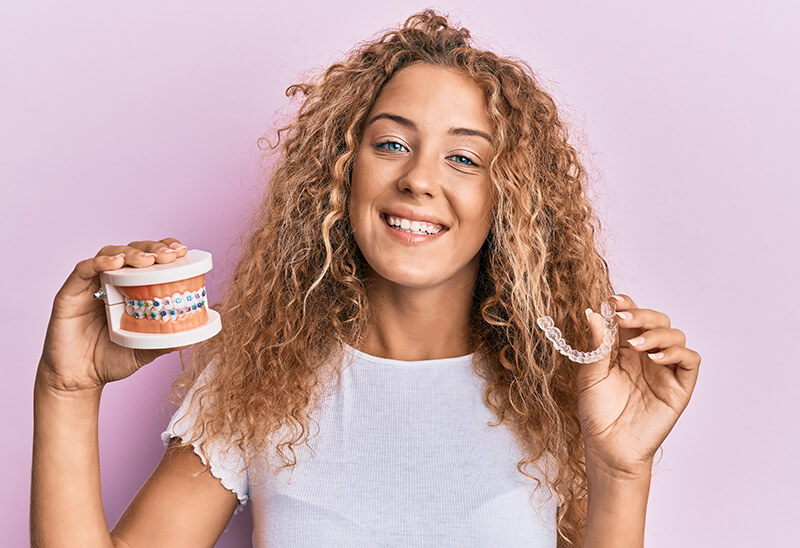 Book a Orthodontic Evaluation
Whether you're 7 or 67, traditional metal braces and ceramic braces can make a straighter smile achievable. Book a consultation with our Dubai Orthodontists today to find out which braces are best for you.
Frequently Asked Questions
How do I keep ceramic braces from staining?

Anything that can stain a white t-shirt has the potential to stain your teeth, dental work, or ceramic braces. Drinking through a straw, rinsing your mouth with water after meals, and brushing at least 2-3 times a day will help to keep your smile bright.

What's the difference between ceramic and metal braces?

The only difference between metal braces and ceramic braces is the way they look. Ceramic braces also use brackets and an arch wire. But the brackets are made out of tooth-colored ceramic to blend in with your smile instead of stainless steel. Depending on the type of braces being used, a cosmetic arch wire might also be available.

What is metal braces?

Conventional metal braces are made out of hypoallergenic stainless steel appliances that are safe to wear on your teeth. Each bracket is bonded to the front of its corresponding tooth using a special type of dental glue. Then the curved, rigid arch wire slips through the front of each bracket to connect the teeth to one another.

What are traditional braces?

Traditional orthodontic systems use metal braces made up of a series of brackets and wires. They are proven and effective for all ages and one of the most affordable options for teeth straightening.

How do metal braces work?

Whether you're in traditional braces, clear ceramic appliances, or another type of fixed orthodontic system, these bracket and wire methods predictably move your teeth using applied pressure on specific points throughout your mouth. The curved arch wire that spans across your smile provides guidance for tooth movement, nudging each tooth into a natural curvature and alignment with its neighbors.
Premium Dental Clinic in Dubai
Address

Villa No. 1021, Al Wasl Road, Umm Suqeim 2, Dubai, UAE

Clinic Hours

| | |
| --- | --- |
| Sunday | 8am - 8pm |
| Monday | 8am - 8pm |
| Tuesday | 8am - 8pm |
| Wednesday | 8am - 8pm |
| Thursday | 8am - 8pm |
| Friday | Closed |
| Saturday | 8am - 8pm |

Address

Villa No. 1041, Al Wasl Road, Umm Suqeim 2, Dubai, UAE

Clinic Hours

| | |
| --- | --- |
| Sunday | 8am - 8pm |
| Monday | 8am - 8pm |
| Tuesday | 8am - 8pm |
| Wednesday | 8am - 8pm |
| Thursday | 8am - 8pm |
| Friday | Closed |
| Saturday | 8am - 8pm |

Address

Shop No. 25, Golden Mile, Building No. 7, Palm Jumeirah, Dubai, UAE

Clinic Hours

| | |
| --- | --- |
| Sunday | 8am - 8pm |
| Monday | 8am - 8pm |
| Tuesday | 8am - 8pm |
| Wednesday | 8am - 8pm |
| Thursday | 8am - 8pm |
| Friday | Closed |
| Saturday | 8am - 8pm |

Address

BurJuman Business Tower, 10th Floor, Office 1003, Bur Dubai, Dubai, UAE

Clinic Hours

| | |
| --- | --- |
| Sunday | 9am - 9pm |
| Monday | 9am - 9pm |
| Tuesday | 9am - 9pm |
| Wednesday | 9am - 9pm |
| Thursday | 9am - 9pm |
| Friday | 11.30am - 7.30pm |
| Saturday | 9am - 9pm |

Address

Central Mall, Ground floor, Street No. 15, Mirdif, Dubai, UAE

Clinic Hours

| | |
| --- | --- |
| Sunday | 9am - 9pm |
| Monday | 9am - 9pm |
| Tuesday | 9am - 9pm |
| Wednesday | 9am - 9pm |
| Thursday | 9am - 9pm |
| Friday | 1pm - 9pm |
| Saturday | 9am - 9pm |

Address

Unit 13 & 14, Souq Extra DSO, Dubai

Clinic Hours

| | |
| --- | --- |
| Sunday | 8am - 8pm |
| Monday | 8am - 8pm |
| Tuesday | 8am - 8pm |
| Wednesday | 8am - 8pm |
| Thursday | 8am - 8pm |
| Friday | Closed |
| Saturday | 8am - 8pm |
Jumeirah Clinic

Address

Villa No. 1021, Al Wasl Road, Umm Suqeim 2, Dubai, UAE

Phone

Clinic Hours

| | |
| --- | --- |
| Sunday | 8am - 8pm |
| Monday | 8am - 8pm |
| Tuesday | 8am - 8pm |
| Wednesday | 8am - 8pm |
| Thursday | 8am - 8pm |
| Friday | Closed |
| Saturday | 8am - 8pm |

Pediatric & Orthodontic Center

Address

Villa No. 1041, Al Wasl Road, Umm Suqeim 2, Dubai, UAE

Phone

Clinic Hours

| | |
| --- | --- |
| Sunday | 8am - 8pm |
| Monday | 8am - 8pm |
| Tuesday | 8am - 8pm |
| Wednesday | 8am - 8pm |
| Thursday | 8am - 8pm |
| Friday | Closed |
| Saturday | 8am - 8pm |

Palm Jumeirah Clinic

Address

Shop No. 25, Golden Mile, Building No. 7, Palm Jumeirah, Dubai, UAE

Phone

Clinic Hours

| | |
| --- | --- |
| Sunday | 8am - 8pm |
| Monday | 8am - 8pm |
| Tuesday | 8am - 8pm |
| Wednesday | 8am - 8pm |
| Thursday | 8am - 8pm |
| Friday | Closed |
| Saturday | 8am - 8pm |

BurJuman Clinic

Address

BurJuman Business Tower, 10th Floor, Office 1003, Bur Dubai, Dubai, UAE

Phone

Clinic Hours

| | |
| --- | --- |
| Sunday | 9am - 9pm |
| Monday | 9am - 9pm |
| Tuesday | 9am - 9pm |
| Wednesday | 9am - 9pm |
| Thursday | 9am - 9pm |
| Friday | 11.30am - 7.30pm |
| Saturday | 9am - 9pm |

Mirdif Clinic

Address

Central Mall, Ground floor, Street No. 15, Mirdif, Dubai, UAE

Phone

Clinic Hours

| | |
| --- | --- |
| Sunday | 9am - 9pm |
| Monday | 9am - 9pm |
| Tuesday | 9am - 9pm |
| Wednesday | 9am - 9pm |
| Thursday | 9am - 9pm |
| Friday | 1pm - 9pm |
| Saturday | 9am - 9pm |

Dubai Silicon Oasis Clinic

Address

Unit 13 & 14, Souq Extra DSO, Dubai

Phone

Clinic Hours

| | |
| --- | --- |
| Sunday | 8am - 8pm |
| Monday | 8am - 8pm |
| Tuesday | 8am - 8pm |
| Wednesday | 8am - 8pm |
| Thursday | 8am - 8pm |
| Friday | Closed |
| Saturday | 8am - 8pm |