Much of a child's oral development is dependent on things like genetics, habits (including thumb or finger sucking), tongue movement, and eruption patterns of teeth. Myobrace for kids is a type of early interceptive treatment that can guide teeth and jaw growth into healthier, better-aligned relationships. 
Myobrace helps correct crooked teeth by guiding them into a more proper alignment as they erupt into place. Problems like gaps or crooked teeth, crowded teeth, and misaligned teeth can be intercepted during your child's oral development and before they cause bigger orthodontic issues. That way if they need fine-tuning later on, their orthodontic therapy will be less complex and more streamlined.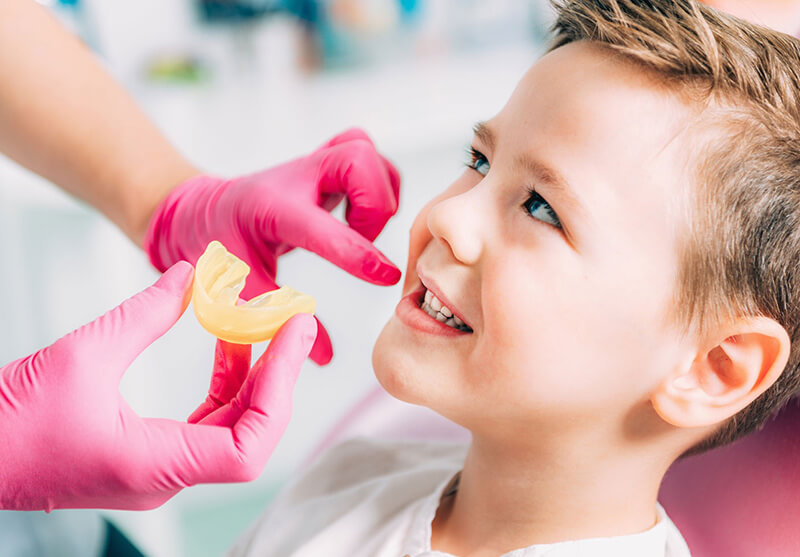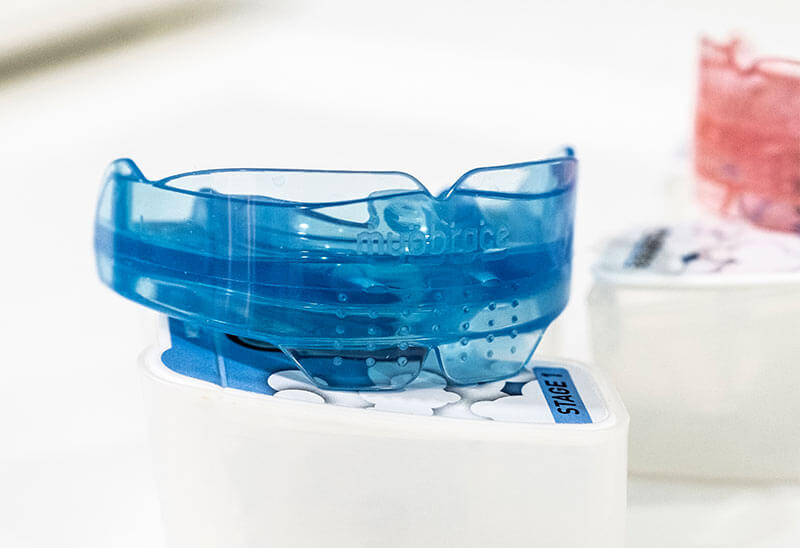 For kids, many orthodontic issues can be prevented through early interceptive therapies. Myobrace is a proven system used to avoid serious orthognathic needs that might otherwise require oral surgery or years of complex appliance therapy. With Myobrace for poor jaw development, your child's growth patterns can be adjusted to prevent "messed up teeth" or smaller, narrow jaw bones.
Early orthodontic intervention and growth modification ensures your child has a head-start on healthy oral development. When their teeth and jaws form in the correct direction, it naturally minimizes the risk of serious orthodontic complications as they get older.
Oral Habits to Watch Out For
Your child's oral habits and function can significantly impact their overall orofacial anatomy.
For instance, if your child still uses a pacifier, a training cup, or sucks their thumb on a regular basis, it can permanently alter the shape of their palate (roof of their mouth) and how those teeth tilt out of alignment. In turn, their tongue may not position itself correction during swallowing, resulting in a tongue thrust. These external factors can permanently impact their growth patterns as your child matures into a teen and then an adult.
Some of the advantages of early interceptive therapy, Myobrace, exercises for oral development, and early childhood treatment include:
Limited time in braces later on

Adult teeth guided into a healthier eruption alignment

Improved oral growth patterns

Healthier jaw width and length

Reduced need for surgical intervention

Prevention of expanders or other growth modification

Enhanced oral function, speech, and diet
I have been using Dr Joy for a while now and had lots of work done with them! I was very cautious with finding the right dentist and I'm so pleased I chose Dr Joy! The practice has a very warm feel and the receptionist team are also very lovely and professional!! I highly recommend them to anyone who is a bit skeptical with finding a dentist here in Dubai!!
Coby
I am very happy with the services provided by the clinic. My treatment was handled extremely professionally and the courteous staff of the clinic were very helpful and swift. I highly recommend this clinic for all oral health issues.
Hammad Ul Haq
By far one of the best dental clinics in the UAE, I've been to a few clinics already and was never convinced with the solutions provided for my teeth until I consulted here and have been a regular patient ever since. It's not easy driving in from Abu Dhabi for every appointment but the outcome is always worth it. Thank you for the continuous flexibility even in my slight delays to my appointments. Excellent level of service, excellent reception team, and an outstanding doctos
Mohannad Al N
Reserve a Consultation for Your Child
Dr. Joy Dental Clinic offers comprehensive orthodontics and early intervention for children of all ages (as well as adult braces.) If you suspect that your child has a bite concern such as a misaligned jaw or atypical oral patterns, we encourage you to schedule an appointment with one of our Dubai Pediatric Dentists / Orthodontists.
Frequently Asked Questions
How do I clean Myobrace appliances?

You can clean a Myobrace appliance with room temperature tap water, antimicrobial soap, and a soft toothbrush. If you notice buildup accumulating on the appliance, soak it in an effervescent denture cleanser to loosen the debris, then rinse it clean before wearing it again.

How should my child wear Myobrace?

For Myobrace therapy to be effective, your child will need to wear it as prescribed. In most cases, the easiest thing to do is to have your child wear their Myobrace during the day but taking it out during meals, then sleep in it overnight. Some children do not need to wear their orthodontic appliance for very long. The key is to follow your recommended care plan, as these wear instructions will determine how well the overall process works.

Is Myobrace effective?

Myobrace works without braces to help guide your child's oral development and tooth positioning well before fixed orthodontic appliances (braces) are even recommended. Your child may still require orthodontic treatment at a later stage. However, the extent of the treatment will be considerably lesser.
Premium Dental Clinic in Dubai
Location

Clinic Hours

| | |
| --- | --- |
| Saturday - Thursday | 8am - 8pm |
| Friday | Closed |

Location

Clinic Hours

| | |
| --- | --- |
| Saturday - Thursday | 8am - 8pm |
| Friday | Closed |

Location

Clinic Hours

| | |
| --- | --- |
| Saturday - Thursday | 8am - 8pm |
| Friday | Closed |

Location

Clinic Hours

| | |
| --- | --- |
| Saturday - Thursday | 9am - 9pm |
| Friday | 11.30am - 7.30pm |

Location

Clinic Hours

| | |
| --- | --- |
| Saturday - Thursday | 9am - 9pm |
| Friday | 1pm - 9pm |

Location

Clinic Hours

| | |
| --- | --- |
| Saturday - Thursday | 8am - 8pm |
| Friday | Closed |
Jumeirah Clinic

Location

Clinic Hours

| | |
| --- | --- |
| Saturday - Thursday | 8am - 8pm |
| Friday | Closed |

Umm Suqeim Clinic

Location

Clinic Hours

| | |
| --- | --- |
| Saturday - Thursday | 8am - 8pm |
| Friday | Closed |

Palm Jumeirah Clinic

Location

Clinic Hours

| | |
| --- | --- |
| Saturday - Thursday | 8am - 8pm |
| Friday | Closed |

BurJuman Clinic

Location

Clinic Hours

| | |
| --- | --- |
| Saturday - Thursday | 9am - 9pm |
| Friday | 11.30am - 7.30pm |

Mirdif Clinic

Location

Clinic Hours

| | |
| --- | --- |
| Saturday - Thursday | 9am - 9pm |
| Friday | 1pm - 9pm |

Dubai Silicon Oasis Clinic

Location

Clinic Hours

| | |
| --- | --- |
| Saturday - Thursday | 8am - 8pm |
| Friday | Closed |