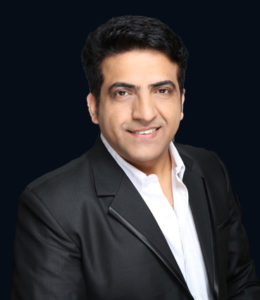 Dr. Kamal Kiswani
Specialist Implantologist
Qualification: BDS MSc: Oral Implantology (Germany), Fellow ICOI, Board certified Diplomate ICOI (USA )

Specialities:

Dental Implants, 3D Guided Implant Surgery, Digital Smile Design, Porcelain Veneers, Cosmetic Dentistry, Dental Bridges and Crowns, All-on-6 Implants, All-on-4 Implants, Aesthetic Gum Correction, Wisdom Tooth Extraction, Dental Fillings, Digital Dentistry, Geriatric Dentistry, Complete Dentures
Location: Mirdif Sport Society Mall
Languages: English, German & Hindi
Nationality: India
Dr. Kamal Kiswani, completed his Masters in Oral Implantology from the prestigious J.W. Goethe University, Frankfurt in Germany. He is a board certified diplomate of the international congress of oral implantologists (ICOI), USA. He has been a Restorative and Cosmetic Dentist since 2001, with Oral Implantology as his prime focus. Dr. Kamal believes in constantly updating his skills and knowledge by frequently attending workshops and conferences. He has attended numerous implantology workshops in Germany and India.
He has been an active member of many dental associations in India and is an extremely popular teacher. To his credit, he has numerous publications in international peer reviewed journals and online dental education portals.
With 16 years of experience, he deals with routine and complex implantology procedures including bone augmentation, ridge splitting and sinus augmentation.
He is very passionate about cosmetic smile correction procedures, restorative procedures, prosthetic procedures and routine general dentistry.
Treating patients with a personal touch has always been Dr. Kamal's primary focus. He is very compassionate towards elderly patients and enjoys restoring their confidence. His friendly yet professional approach makes him a firm favorite amongst patients in Dubai who are happy to recommend him to family and friends.
He is a member of the following societies:
International Congress of Oral Implantologist (ICOI)
Indian Society of Oral Implantology (ISOI)
Indian Dental Association
Implants Done at Dr Joy Dental Clinic, they have really excellent doctors, very happy with this clinic, amazing service and staff, thanks for everything. ❤️
Melissa Torres
I was very nervous when I find out that I need to have a dental implant. Thank Dr Kamal in Joy Dental clinic Mirdif, he talked me about the whole process very clearly. I get informed what the next step will be, he always make sure I feel ok during the procedure, very gentle and professional. Highly recommended.
Claudia Fang
Had my wisdom tooth removed at Dr. Joy Mirdiff, before tooth extraction Dr. Kamal discussed the procedures to be done and gave me assurance that everything will be alright. Indeed! it was very smooth, didn't even notice that its done. Highly recommended!!!
Mjane Monteza