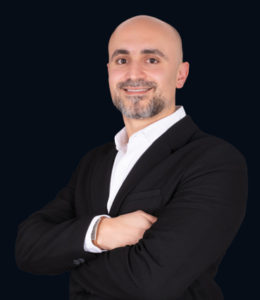 Dr. Khaled AlQadi
Specialist Endodontist
Qualification: BDS, MDS

Specialities:

Root Canal Treatment, Retreatment of failed root canals, Post, and core build-up, Immature teeth treatment, Vital pulp therapy, Endodontic surgery (apicoectomy), Abscess management
Location: JVC
Languages: Arabic, English
Nationality: Palestine
With over 15 years of dedicated experience, Dr. Khalid is committed to providing exceptional dental care with a focus on patient comfort and pain-free treatments.
Dr Khalid qualified from University of Aleppo in 2008 with a Bachelor Degree in Dental Surgery and thereafter and completed his Master's degree in Endodontics in 2013. His rigorous training and dedication to staying up-to-date with the latest advancements in his field have solidified his reputation as a skilled and knowledgeable endodontist.
Dr. Khalid takes particular pride in his ability to manage anxious patients, ensuring their dental experiences are as comfortable and pain-free as possible. He understands that visiting the dentist can be a source of anxiety for many, and his compassionate approach helps alleviate patient concerns.
Dr. Khalid is an active member of various dental organizations, including American Association of Endodontists (AAE), Dental Syrian Association, Syrian Board of Endodontics
Dr Khaled is available for the below treatments. 
Root Canal Treatment

Retreatment of failed root canals

Post, and core build-up

Immature teeth treatment

Vital pulp therapy

Endodontic surgery (apicoectomy)

Abscess management