Wearing braces requires a dedicated daily hygiene routine. The better you care for your smile during orthodontic treatment, the healthier your teeth will be in the long run. For one, having clean braces will limit your chances of permanent discoloration or superficial stains in your tooth enamel. 
Having clean braces takes careful planning and dedication. You will also need to adapt your hygiene routine depending on whether you're in traditional metal braces, Invisalign, or other types of appliances (such as ceramic or Damon braces.)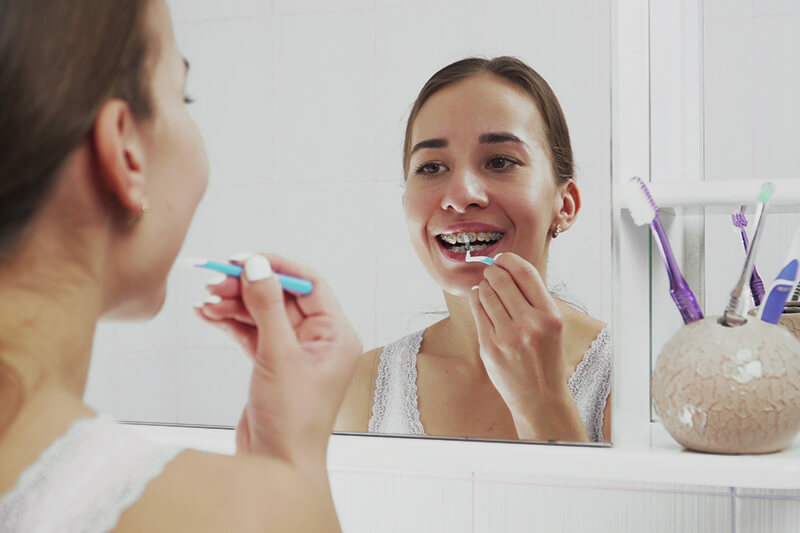 Without good oral hygiene, plaque can accumulate around your fixed appliances and lead to unsightly tooth discoloration. Clean braces and clean teeth will limit the chances of "white circles" or atypical demineralization across your enamel once your appliances are removed. Dedicated braces care is essential.
As with a typical home plan, you must brush your teeth with braces at least twice a day when you have braces, for two minutes at a time. Brush above the brackets, below the brackets, inside of your mouth, and all of the chewing surfaces. Then go back to clean under your arch wires and between each tooth, where your toothbrush doesn't reach. 
Fluoride Toothpaste —

One of the most important braces care tips to keep in mind is to use a fluoride toothpaste. In some cases, our Dubai dentists may even prescribe a fluoride gel or rinse to use at home. 

Floss Threader or Tufted Floss — Weave your floss under wires and between teeth to keep your gums healthy. You should floss a minimum of once a day.
Proxy Brush — Tufted proxy brushes are excellent for cleaning around fixed orthodontic appliances like brackets and wires. Use them under your arch wire, between brackets, and where your traditional brush doesn't reach.
Water Flosser —

A water flosser is an excellent alternative to traditional flossing. It can reach practically anywhere, regardless of the type of braces you're wearing. Simply aim the stream of water and flush away plaque in the most hard-to-reach areas. 

Electric Toothbrush — Any time you need to brush with braces, having an electric toothbrush is a smart investment. Electric toothbrushes clean significantly better than using a manual brush. Simply place it against your tooth or orthodontic appliances and let it do the work for you.
Cleaning Your Invisalign or Invisalign Teen Trays
Invisalign aligners need to be cleaned differently than traditional orthodontic braces. Care typically consists of normal brushing and flossing, since your trays are removable. But in addition to cleaning your teeth, the aligners will also need to be cleaned to reduce residue buildup. Avoid the use of hot water, as it can cause your aligner to warp. Instead, use room temperature tap water, antimicrobial soap, and a soft toothbrush to clean the inside and outside of your aligner at least twice a day (morning and night). If you notice buildup, you can soak your aligner in an effervescent denture cleanser for about an hour, then brush and rinse it clean before placing it back into your mouth.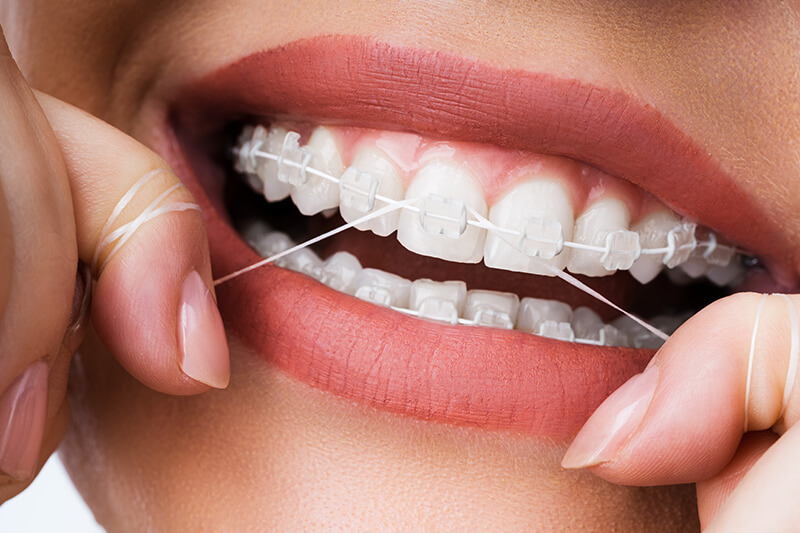 Retainer or Myobrace Hygiene
If your child is wearing a Myobrace appliance or removable retainer, follow the same hygiene tips as listed above for Invisalign trays.
Schedule a Routine Dental Cleaning
Even with great oral hygiene, fixed dental braces can make your smile more prone to overall plaque or tartar buildup. It's best to plan for a professional dental cleaning at least every six months. Some people prefer to schedule extra cleanings during their orthodontic treatment. Much of it depends on how healthy your mouth is and how comfortable you feel with your (orthodontic) braces care.
Orthodontic Braces Care | Dubai
During your checkup at Dr. Joy Dental Clinic, our Dubai oral health experts will work with you to develop a modified oral hygiene plan for your teeth and braces. Clean braces are essential for healthy gums and enamel. Contact one of our Dubai locations today to request an appointment.
Premium Dental Clinic in Dubai
Location

Clinic Hours

| | |
| --- | --- |
| Saturday - Thursday | 8am - 8pm |
| Friday | 11am - 8pm |

Location

Clinic Hours

| | |
| --- | --- |
| Saturday - Thursday | 12pm - 8pm |
| Friday | Closed |
Jumeirah Clinic

Umm Suqeim Clinic

Palm Jumeirah Clinic

Location

Clinic Hours

| | |
| --- | --- |
| Saturday - Thursday | 8am - 8pm |
| Friday | 11am - 8pm |

BurJuman Clinic

Mirdif Clinic

Location

Clinic Hours

| | |
| --- | --- |
| Saturday - Thursday | 12pm - 8pm |
| Friday | Closed |

Dubai Silicon Oasis Clinic

JVC Clinic

Mirdif Sport Society Mall Clinic