Aesthetic Gum Correction in Dubai
Do you have a gummy smile? Uneven gumlines or excessive gum tissues can make your teeth look shorter than they really are. They can also cause teeth to look misshaped and of different sizes. In reality, all you need to fix your smile is to safely adjust the shape of your gum tissue (gingiva.)
On the other hand, some people have too little gingiva, caused by receding gums or periodontal disease. If more teeth than gums show, the opposite of a gummy smile procedure might be needed: a gum graft.
Aesthetic gum correction typically involves gummy smile treatment, aka "gum recontouring." If you have a gummy smile, we can use minimally invasive techniques such as laser therapy to gently reduce and reshape the edges of your gum tissues. That way the contour around each tooth is a desired shape and curvature. 
Most laser gum correction can be completed in a single appointment. Numbing medication can be used if you have sensitive gums, but it isn't always necessary. The results are immediate. And since the contouring is performed with a laser, the gum tissues are instantly sealed for reduced bleeding and inflammation. No sutures or surgical dressings are necessary. You'll have an instantly enhanced smile with practically no recovery time.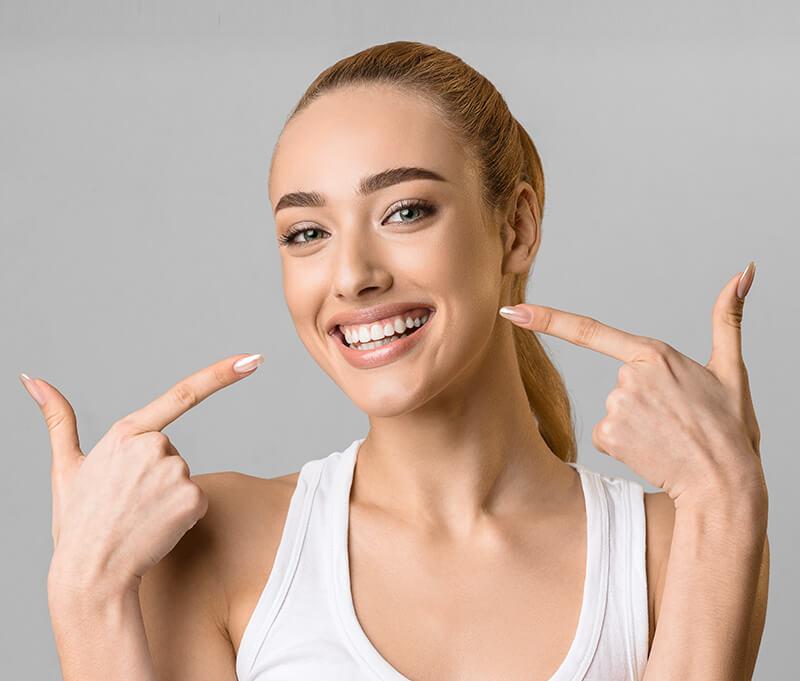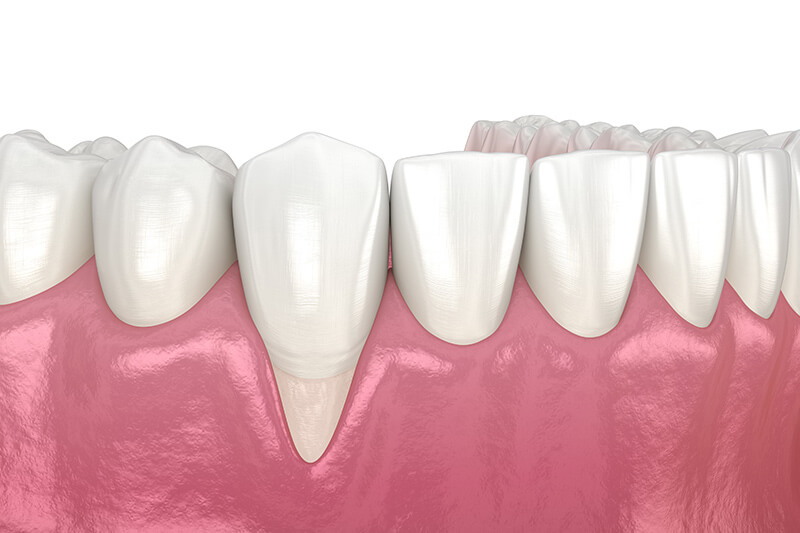 What About Receding Gums?
If your gum tissues are pulling away (receding) down the roots of your teeth, it can also be problematic. Gingival loss affects tooth integrity, as it's also accompanied by bone loss. On top of that, exposed root surfaces are highly prone to sensitivity and tooth decay.
While laser recontouring does not re-grow gingival tissues, another type of aesthetic gum correction is available: soft tissue grafting. This type of therapy takes gingiva from another donor site and covers the exposed root.
With time and care, the tissue attaches to the surrounding gingiva and root surface. Instead of gummy smile procedures where the gums are shortened, the gumlines are increased. 
Soft tissue grafting is a therapeutic treatment that also provides aesthetic gum correction. The result is a healthier smile that reduces your chances of tooth loss, while also complementing the overall look of your teeth and gums.
Pinhole treatment is a graft alternative that uses minimally invasive procedures to gently tug on surrounding gum tissue to cover exposed roots.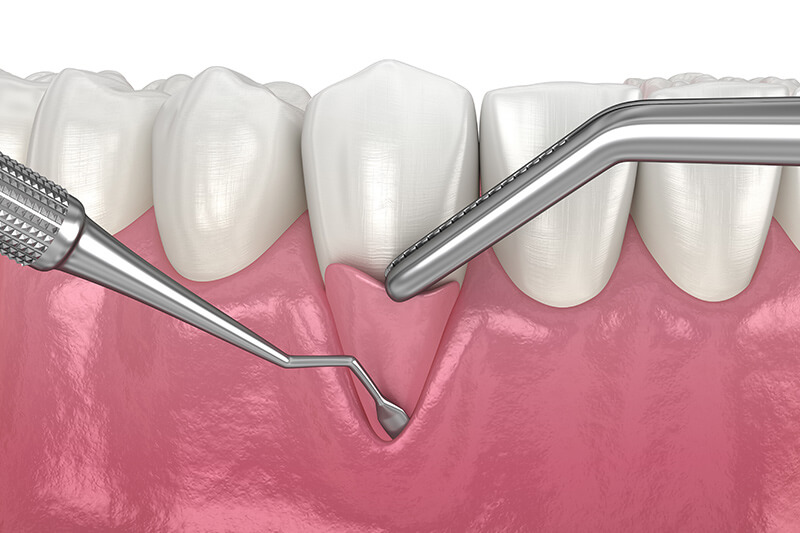 I have been using Dr Joy for a while now and had lots of work done with them! I was very cautious with finding the right dentist and I'm so pleased I chose Dr Joy! The practice has a very warm feel and the receptionist team are also very lovely and professional!! I highly recommend them to anyone who is a bit skeptical with finding a dentist here in Dubai!!
Coby
I am very happy with the services provided by the clinic. My treatment was handled extremely professionally and the courteous staff of the clinic were very helpful and swift. I highly recommend this clinic for all oral health issues.
Hammad Ul Haq
By far one of the best dental clinics in the UAE, I've been to a few clinics already and was never convinced with the solutions provided for my teeth until I consulted here and have been a regular patient ever since. It's not easy driving in from Abu Dhabi for every appointment but the outcome is always worth it. Thank you for the continuous flexibility even in my slight delays to my appointments. Excellent level of service, excellent reception team, and an outstanding doctos
Mohannad Al N
Comprehensive Gum Therapy
Gummy smile treatment and soft tissue grafting are just a couple of examples of our gingival therapy offerings. Dr. Joy Dental Clinic also provides services like gum depigmentation (gingival bleaching) and gum disease treatment for periodontal disease. Your gums frame your smile and play a key role in the way your teeth look. If the tissue is irregular or unhealthy, it can detract from even the most attractive teeth. Contact our Dubai Periodontists today to reserve a soft tissue consultation and discover what's possible.
Frequently Asked Questions
Will my gums grow back?

Depending on why you need a gummy smile makeover, your gum tissues are unlikely to "grow back" after being recontoured. However, if the excessive tissues are caused by hormones or medication, they may do so.

Does gum recontouring hurt?

Cosmetic gum recontouring is a safe, minimally-invasive procedure that's completed with a soft tissue laser. Lasers minimize discomfort and reduce recovery times, providing a practically painless gummy smile makeover. At most, you may only need an over-the-counter pain reliever for a day or so.

Is gum recontouring safe?

One of the safest gummy smile procedures we offer is laser recontouring. Compared to older methods of treating gummy smiles, laser therapy is considerably less invasive, making it safer for our patients. There are no incisions or sutures required. The laser provides instant sealing along the edges of the gum tissues so that there's practically no recovery time needed.

What causes gum recession (long teeth)?

Gum recession can be caused by periodontal disease, misaligned teeth, use of tobacco products, teeth grinding, and aggressive toothbrushing, among other factors. Once gums begin to recede, they cannot "grow back" on their own. Professional intervention is the only option.

What causes gummy smiles?

Excessive gum tissue can be the result of genetics, hormones, and even certain types of prescription medication. For instance, some high blood pressure medicines can cause an overgrowth of gum tissue. During pregnancy, some women experience excessive gum growth called "pregnancy tumors" which may improve after giving birth or need to be removed with a laser. Poor oral hygiene during orthodontic therapy can also cause tissue overgrowth.
Premium Dental Clinic in Dubai
Address

Villa No. 1021, Al Wasl Road, Umm Suqeim 2, Dubai, UAE

Clinic Hours

| | |
| --- | --- |
| Sunday | 8am - 8pm |
| Monday | 8am - 8pm |
| Tuesday | 8am - 8pm |
| Wednesday | 8am - 8pm |
| Thursday | 8am - 8pm |
| Friday | Closed |
| Saturday | 8am - 8pm |

Address

Villa No. 1041, Al Wasl Road, Umm Suqeim 2, Dubai, UAE

Clinic Hours

| | |
| --- | --- |
| Sunday | 8am - 8pm |
| Monday | 8am - 8pm |
| Tuesday | 8am - 8pm |
| Wednesday | 8am - 8pm |
| Thursday | 8am - 8pm |
| Friday | Closed |
| Saturday | 8am - 8pm |

Address

Shop No. 25, Golden Mile, Building No. 7, Palm Jumeirah, Dubai, UAE

Clinic Hours

| | |
| --- | --- |
| Sunday | 8am - 8pm |
| Monday | 8am - 8pm |
| Tuesday | 8am - 8pm |
| Wednesday | 8am - 8pm |
| Thursday | 8am - 8pm |
| Friday | Closed |
| Saturday | 8am - 8pm |

Address

BurJuman Business Tower, 10th Floor, Office 1003, Bur Dubai, Dubai, UAE

Clinic Hours

| | |
| --- | --- |
| Sunday | 9am - 9pm |
| Monday | 9am - 9pm |
| Tuesday | 9am - 9pm |
| Wednesday | 9am - 9pm |
| Thursday | 9am - 9pm |
| Friday | 11.30am - 7.30pm |
| Saturday | 9am - 9pm |

Address

Central Mall, Ground floor, Street No. 15, Mirdif, Dubai, UAE

Clinic Hours

| | |
| --- | --- |
| Sunday | 9am - 9pm |
| Monday | 9am - 9pm |
| Tuesday | 9am - 9pm |
| Wednesday | 9am - 9pm |
| Thursday | 9am - 9pm |
| Friday | 1pm - 9pm |
| Saturday | 9am - 9pm |

Address

Unit 13 & 14, Souq Extra DSO, Dubai

Clinic Hours

| | |
| --- | --- |
| Sunday | 8am - 8pm |
| Monday | 8am - 8pm |
| Tuesday | 8am - 8pm |
| Wednesday | 8am - 8pm |
| Thursday | 8am - 8pm |
| Friday | Closed |
| Saturday | 8am - 8pm |
Jumeirah Clinic

Address

Villa No. 1021, Al Wasl Road, Umm Suqeim 2, Dubai, UAE

Phone

Clinic Hours

| | |
| --- | --- |
| Sunday | 8am - 8pm |
| Monday | 8am - 8pm |
| Tuesday | 8am - 8pm |
| Wednesday | 8am - 8pm |
| Thursday | 8am - 8pm |
| Friday | Closed |
| Saturday | 8am - 8pm |

Pediatric & Orthodontic Center

Address

Villa No. 1041, Al Wasl Road, Umm Suqeim 2, Dubai, UAE

Phone

Clinic Hours

| | |
| --- | --- |
| Sunday | 8am - 8pm |
| Monday | 8am - 8pm |
| Tuesday | 8am - 8pm |
| Wednesday | 8am - 8pm |
| Thursday | 8am - 8pm |
| Friday | Closed |
| Saturday | 8am - 8pm |

Palm Jumeirah Clinic

Address

Shop No. 25, Golden Mile, Building No. 7, Palm Jumeirah, Dubai, UAE

Phone

Clinic Hours

| | |
| --- | --- |
| Sunday | 8am - 8pm |
| Monday | 8am - 8pm |
| Tuesday | 8am - 8pm |
| Wednesday | 8am - 8pm |
| Thursday | 8am - 8pm |
| Friday | Closed |
| Saturday | 8am - 8pm |

BurJuman Clinic

Address

BurJuman Business Tower, 10th Floor, Office 1003, Bur Dubai, Dubai, UAE

Phone

Clinic Hours

| | |
| --- | --- |
| Sunday | 9am - 9pm |
| Monday | 9am - 9pm |
| Tuesday | 9am - 9pm |
| Wednesday | 9am - 9pm |
| Thursday | 9am - 9pm |
| Friday | 11.30am - 7.30pm |
| Saturday | 9am - 9pm |

Mirdif Clinic

Address

Central Mall, Ground floor, Street No. 15, Mirdif, Dubai, UAE

Phone

Clinic Hours

| | |
| --- | --- |
| Sunday | 9am - 9pm |
| Monday | 9am - 9pm |
| Tuesday | 9am - 9pm |
| Wednesday | 9am - 9pm |
| Thursday | 9am - 9pm |
| Friday | 1pm - 9pm |
| Saturday | 9am - 9pm |

Dubai Silicon Oasis Clinic

Address

Unit 13 & 14, Souq Extra DSO, Dubai

Phone

Clinic Hours

| | |
| --- | --- |
| Sunday | 8am - 8pm |
| Monday | 8am - 8pm |
| Tuesday | 8am - 8pm |
| Wednesday | 8am - 8pm |
| Thursday | 8am - 8pm |
| Friday | Closed |
| Saturday | 8am - 8pm |